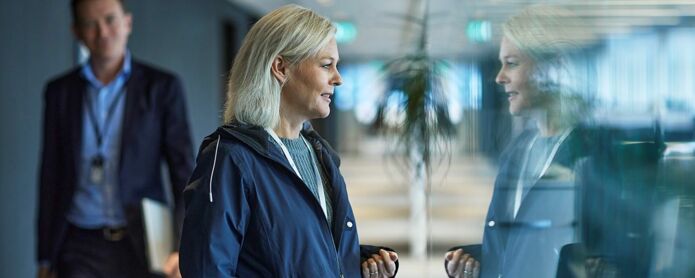 Investor Relations
Wallenius Wilhelmsen strives to be available and to pursue a professional, transparent and active dialogue with investors and analysts. Wallenius Wilhelmsen is committed to disclose and share relevant information in a timely, reliable and accurate manner with all financial stakeholders in accordance with relevant legal requirements and sound corporate governance principles. The objective is to ensure equal treatment of all stakeholders and fair valuation of the Wallenius Wilhelmsen share.
8,200
Employees across 29 contries
~130
Vessels in operation
Financial calendar
Four weeks before the announcement of quarterly results, Wallenius Wilhelmsen practices a "silent period" meaning that contact with external analysts, investors and journalists is minimized. This is done to minimize the risk of information leaks and potentially unequal information in the marketplace
| | |
| --- | --- |
| Event | Date |
| Q4 2022 – Quarterly Report | 8 February 2023 |
| Annual Report 2022 | 16 March 2023 |
| Annual General Meeting | 26 April 2023 |
| Q1 2023 - Quarterly Report | 4 May 2023 |
| Half-yearly Report 2023 | 15 August 2023 |
| Q3 2023 – Quarterly Report | 1 November 2023 |
Bonds
The ticker is a direct link to Oslo Stock Exchange. By clicking the name you will get the agreement for that specific loan.
Top 20 shareholders
The nominee accounts held with Skandinaviska Enskilda Banken AB for 160,000,000 shares is owned by Wallenius Lines AB
Dividends
Dividend policy

Wallenius Wilhelmsen's objective is to provide shareholders with a competitive return over time through a combination of rising value for the WAWI ASA shares and dividend payments to the shareholders. The board targets a dividend which over time shall constitute between 30 per cent and 50 per cent of the Company's profit after tax. When deciding the size of the dividend, the board will consider future capital requirements to ensure the implementation of its growth strategy as well as the need to ensure the group's financial standing remains warrantable at all times. Dividends will be declared in USD and paid out semi-annually.
| | | | | | |
| --- | --- | --- | --- | --- | --- |
| Ex-dividend date | Pay date | Fiscal year | Dividend, USD | Exchange rate | Dividend, NOK |
| 09.11.2022 | 22.11.2022 | 2021 | 0.06 | 10.2533 | 0.6152 |
| 27.04.2022 | 10.05.2022 | 2021 | 0.09 | 9.1750 | 0.82575 |
| 12.11.2019 | 21.11.2019 | 2018 | 0.06 | 9.1374 | 0.54824 |
| 26.04.2019 | 09.05.2019 | 2018 | 0.06 | 8.6850 | 0.5211 |
| 12.11.2015 | 26.11.2015 | 2014 | n/a | n/a | 0.50 |
| 24.04.2015 | 07.05.2015 | 2014 | n/a | n/a | 1.00 |
| 14.11.2014 | 27.11.2014 | 2014 | n/a | n/a | 1.00 |
| 25.04.2014 | 08.05.2014 | 2013 | n/a | n/a | 1.00 |
| 28.11.2013 | 10.12.2013 | 2013 | n/a | n/a | 0.75 |
| 26.04.2013 | 14.05.2013 | 2012 | n/a | n/a | 4.00 |
| 14.11.2012 | 27.11.2012 | 2012 | n/a | n/a | 1.00 |
| 27.04.2012 | 09.05.2012 | 2011 | n/a | n/a | 0.65 |
| 07.12.2011 | 20.12.2011 | 2011 | n/a | n/a | 0.50 |
| 29.04.2011 | 10.05.2011 | 2010 | n/a | n/a | 0.50 |
Analyst coverage
| | | | |
| --- | --- | --- | --- |
| Firm / Analyst | Analyst | Phone | Email |
| ABG Sundal Collier | Petter Haugen | +47 22016139 | petter.haugen@abgsc.no |
| Arctic Securities | Lars Bastian Østereng | +47 22937213 | lars.ostereng@arctic.com |
| DNB Markets | Jørgen Lian | +47 24169188 | jorgen.lian@dnb.no |
| Kepler Cheuvreux | Anders Karlsen | +47 23139068 | arkarlsen@keplercheuvreux.com |
| Pareto | Eirik Håvaldsen | +47 24132120 | eirik.haavaldsen@paretosec.com |
| SEB | Frederik Ness | +47 22827118 | frederik.ness@seb.no |
| Nordea | Erik Hovi | +47 99225042 | erik.hovi@nordea.com |
| Fearnley Securities | Øystein Vaagen | + 47 48269483 | o.vaagen@fearnleys.com |