The people, the insight, the technology, the equipment: The purpose of Wallenius Wilhelmsen
Wallenius Wilhelmsen is so much more than vessels, terminals, processing centers. Our complexity is also our challenge in terms of communicating all we are, who we are. In our annual report 2021, we try to peel away technical terms - layer by layer - to show the reader what is under our hood: For as long as there has been history, there has been trade. And for as long as there has been trade, people have learned, specialized, made tools, developed skillsets that accelerate growth.
Trade makes the world go round
160 years ago, from Scandinavia, we pioneered trade over the seas. For generations, global trade has helped lowering prices on goods, lifted wages across the globe, taught us respect for different cultures and generally made the world smaller.

During the pandemic, we have seen that if trade stops, the world stops. The global supply chains are an interwoven tapestry where we know that Wallenius Wilhelmsen has a role to play.
From wooden ships to steel ships to partnerships
We continue to explore new ways to create value for our customers, our shareholders, our partners, our employees. Innovation enables efficiency. Customer-centric solutions drive our innovation, only by connecting processes, from pricing to loading to transportation to delivery, do we set our services apart from that of our competitors.

Across our part of the supply chain, we work on increasing visibility into where the cargo sits, what the next steps are. In the annual report you can read more about how we developed a platform that gives customers full visibility into the movement of their cargo.
We launched an AI-powered computer-vision tool that allow us to conduct mobile inspection anywhere, anytime. It reduces manual inspection time by 70 per cent. It makes human error a thing of the past.
We launched a new mobile scanning app that not only captures loading and discharging of cargo from vessels, it also updates exact measurements, stuffs and strips equipment.
Another app, powered by machine learning, ensures that tasks are properly completed, saving time and costs. We pilot wearable devices that monitor and give alerts when unusual or unexpected movements that can cause injuries happen. These are just some examples from this past year. Innovation and sustainability go hand in hand.

We have ships and infrastructure the size of cities. We have logistics solutions and software that fit in your hand.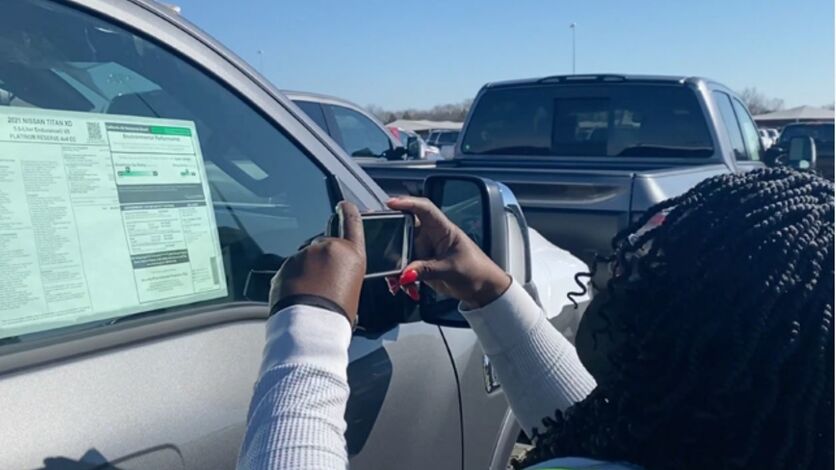 vChek, a new mobile quality checking app
We go to work to keep the world in motion
We go to work to keep the world in motion, that is our main purpose. It may sound lofty, but it is true. We know that our world's resources are limited, and therefore challenge old rules with fresh ideas. It's part of our responsibility as a global company, and we must admit, an opportunity to create a competitive edge.

As a leading provider of logistics services, both on land and at sea, we work to minimize and responsibly manage our environmental impact. Decarbonization and the shift away from fossil fuels are recognized as one of the most important measures to mitigate the worst irreversible effects of climate change. Wallenius Wilhelmsen adheres to the scientific consensus on climate change and supports the Paris Agreement.

We must do more, we can do more. Although shipping has a much lower carbon intensity per tonnes-km transported than air and land-based transportation, it still constitutes three per cent of annual CO2 emissions globally. To most, there are no alternatives to seagoing transportation. International shipping carries about 90 per cent of world trade, and the volumes of goods are predicted to increase significantly toward 2050.

For decades we have worked to reduce our greenhouse emissions. Since 2008, our CO2e intensity has decreased by 33.6 per cent. In 2021, we committed to reducing our greenhouse emissions intensity by 27.5 per cent by 2030, compared to 2019. By decarbonizing operations and reducing our environmental footprint, we are part of the solution, not the problem.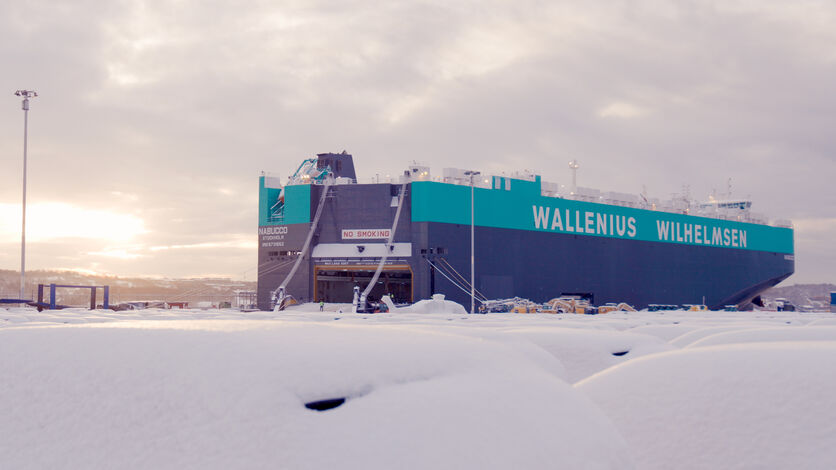 The lastest addition to our fleet, the MV Nabucco. It has a 7,000 car capacity and is part of the HERO series – one of the most energy efficient vehicle carriers on the water today ↓
We are in the people's business
While impressive vessels are our most visible assets, we believe it is our people that are most important. We have 8,200 employees in 29 countries. We care about all because none of us can do the things we do alone. We are not only in the transportation business. We are also in the people's business, we provide new opportunities for growth, both for our people and for us as a company.

We work with major manufacturers of cars, trucks, heavy equipment and machinery such as BMW, Caterpillar, Daimler, Deere, JLR, John Deere, Hyundai, Nissan, Toyota and Volkswagen. Together our supply chains steadily become more integrated as do our customers' representatives and our own employees. The challenges we face, stretched value chains, congested ports or the war in Ukraine, show that dialogue brings results. Through dialogue have we been able to find the best options, not always ideal, but at the time the best available solution.
Yes, we delivered strong results!
Demand for our services returned to pre-pandemic levels. The annual report is mainly about how Wallenius Wilhelmsen delivered very strong results in 2021 - despite strained global supply chains. Driven by high demand, cargo mix and high spot rates, the shipping segment saw positive development in volumes, revenues and margins. Trade remained imbalanced throughout the year, with particularly strong demand out of Asia and a more muted volume development out of Europe. The logistics segment also saw improvements in revenues and EBITDA from the previous year.

Our flexibility and capability to transport non-standard cargo for our customers at high market rates were utilized effectively to drive profitability. The full utilization of our sailing fleet was a key success factor in 2021. All vessels in cold lay-up were reactivated, and a new vessel was delivered in Q4.
We hope you enjoy the reading as much as we enjoyed identifying and writing the stories! We don't expect you to feel pride, but we hope you are just a little bit impressed by what Wallenius Wilhelmsen's 8,200 employees have achieved in 2021!