Lasse Kristoffersen at the Oslo Energy Forum: How Wallenius Wilhelmsen will orchestrate change
"We can be an adapter and sit back, wait for 10 years, until the pricing is there, the energy is there, technology is there, all the mechanisms are in place, but we have decided to be a shaper, meaning that we are now putting down strategies in all of our companies, so that instead, we drive this change," said Kristoffersen.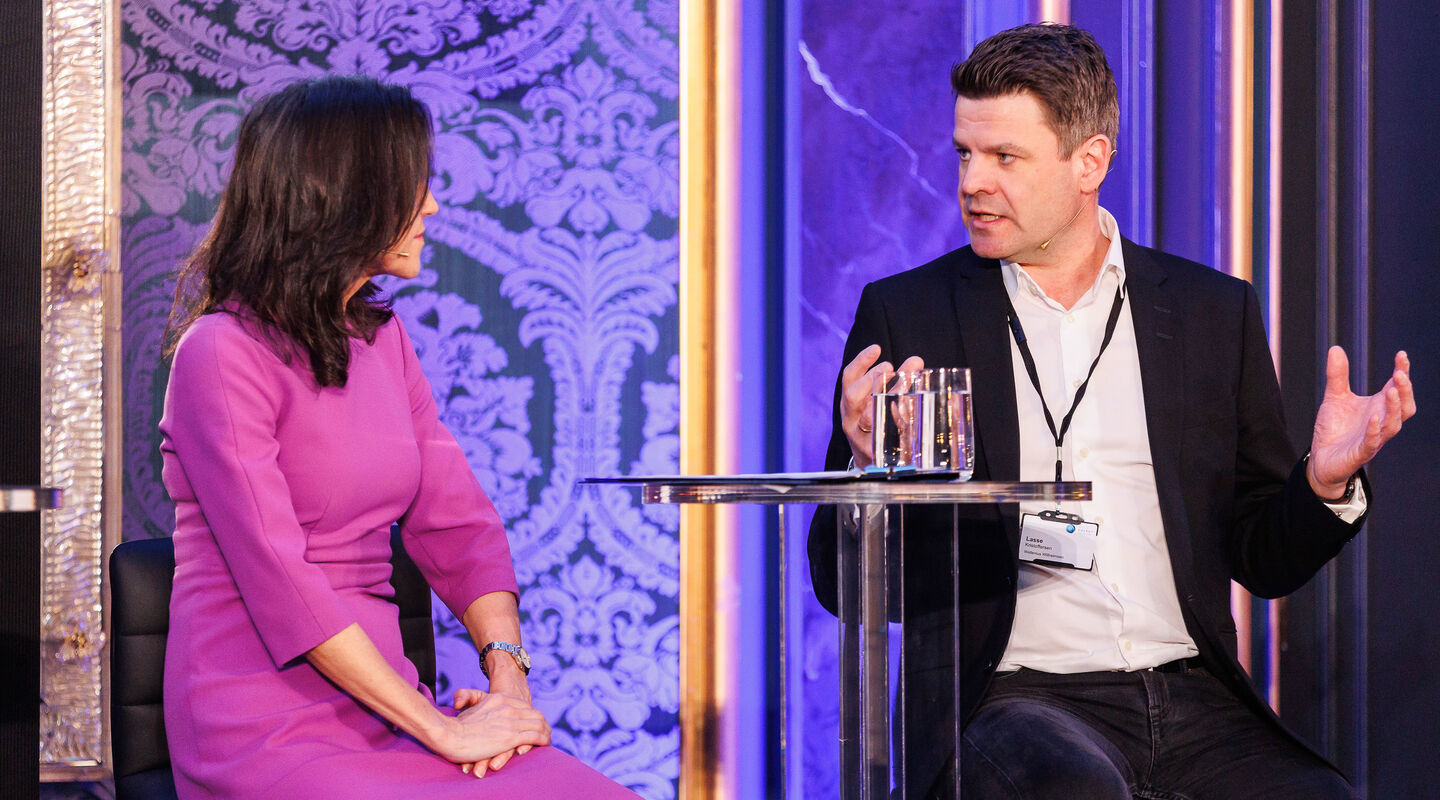 As part of a continuous effort to drive change and innovation in shipping and logistics, our CEO Lasse Kristoffersen took part in the Oslo Energy Forum, February 16th.

The Oslo Energy Forum's mission is to foster productive discussions on the most critical and current energy issues and solutions globally.

Taking place in Oslo from the 14th to the 16th of February this year, it had "Energy Transition in the new risk reality" as its theme and heard from key speakers such as Bill Gates, Norway's Prime Minister Jonas Gahr Støre, UN's Deputy Secretary-General Amina Mohammed, Nork Hydro's President and CEO Hilde Merete Aasheim, and the like.

In a conversation entitled "Creating solutions for the hard-to-abate sectors" and joined by Dr. Dominik von Achten, Chairman of the Managing Board at Heidelberg Materials, Christina Båge-Friborg, Head of Sustainability at SSAB and broadcaster Siri Lill Mannes, Lasse discussed the past, the present and future of our industry and Wallenius Wilhelmsen's plan to enact change.


The present


Sustainability is paramount and Wallenius Wilhelmsen is its instigator. At our terminals around the globe, we are investing heavily in battery-driven trucks and we have both solar and wind energy at our terminals, but this is not enough.

"The big issue in shipping is that the market will never solve it because there's such a big difference in the price between zero-emission energy and emission energy, that the market itself, will never solve it," explained Kristoffersen.

The good news for the market


However, Kristoffersen emphasized that zero-emission "it's not really a societal problem. Decarbonization is really cheap for society, this is much more an orchestration problem".

Therefore, making decarbonization a reality is not a problem of affordability for the consumer, instead, how to get the infrastructures in place to get the consumer what they want, is.

Making it in a business-to-business context more expensive but, when it comes to business-to-consumer, much cheaper.


The future

Lasse says that the future of Wallenius Wilhelmsen's journey to zero-emissions will unavoidably happen in three waves.

In the first wave we will need to use biofuels. Then, as early as physically possible, we will provide a zero-emission service.

The middle wave will likely involve the use of methanol, that's possibly the technology and energy that we will have available around that time scale.

The third and last wave, for us and the industry, will most likely be the implementation and probable scaling of Ammonia. Expected to happen in about 10 years from now, both in a technological and energy storage perspective.


The partners who will make it happen with us

To make change happen we must be the shaper of our industry and choose the right partners to embark on this journey with.

Being complacent is not an option and meaningful change won't happen without its challenges.

Our partners have a critical role in helping us shape the industry and a direct impact in our development.

We are lucky to have powerful partnerships willing and excited to get started.

Lasse said: "We have a very good customer in the Volvo Group. They have a very clear strategy."

Not least, we have also signed a Letter of Intent with Mercedes Benz last week, and committed once again to our efforts in the "Orcelle Wind" project, a concept vessel and dedicated car-carrier that will use wind as its main propulsion form, thereby significantly reducing emissions.

Together with our customers and partners, we can shape change.