Behind the scenes at our RoRo terminals
With nine owned and operated RoRo terminals around the world and skilled teams, our terminal services help to support the smooth and safe movement of customers' products, from arrival at the gate until loading onto the vessel. Let's go behind the scenes to follow the export journey at our RoRo terminals.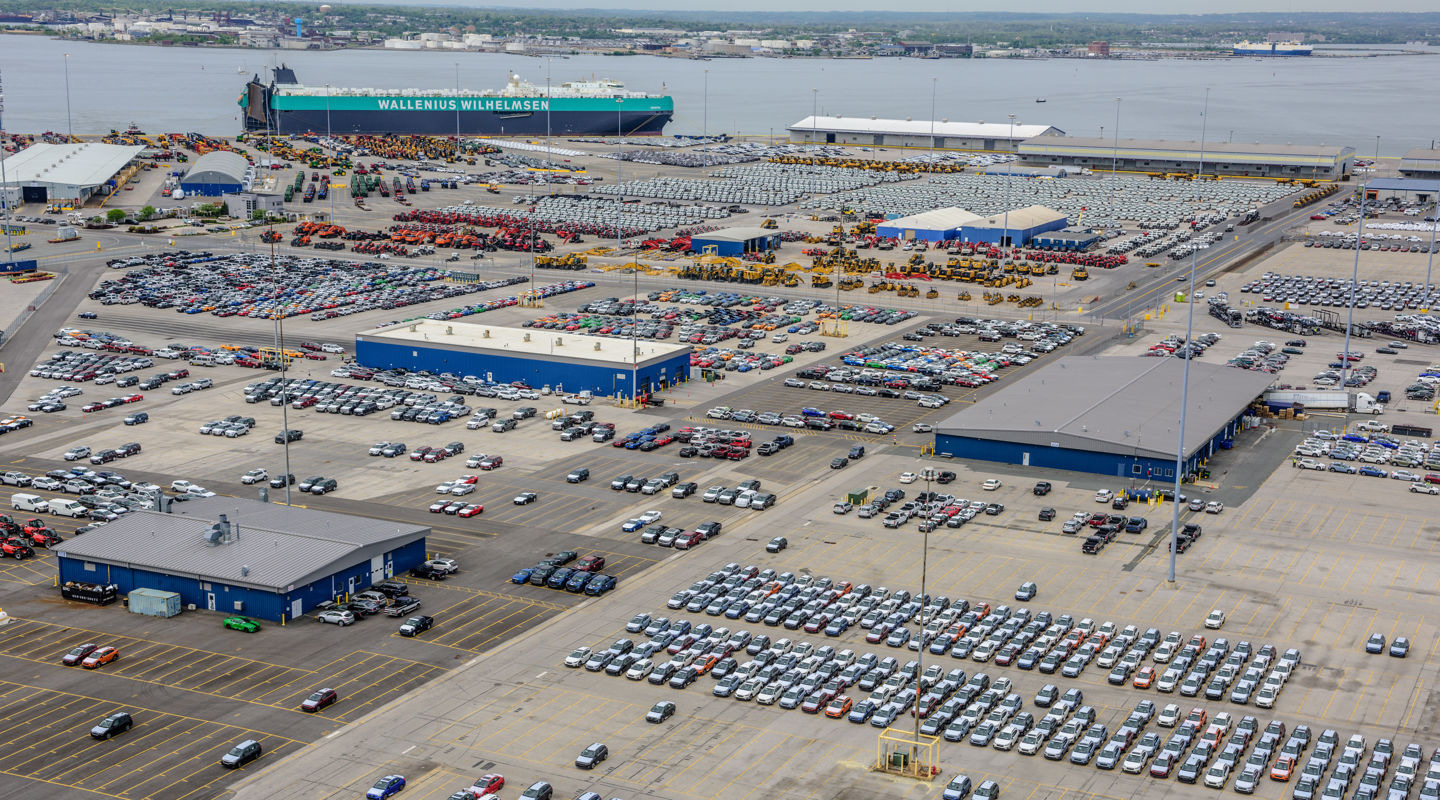 There are a variety of ways your exporting product can enter our RoRo terminals:
- Arrival by truck

All products arriving by truck enter though the terminal gate. Before entry, truck drivers must prepare and present documentation, including information about the weight of the product and how it has been packaged. The driver waits to be given the green light to enter. This ensures a streamlined flow of products through the terminal and eases truck congestion.
- Arrival by rail
For products arriving at the terminal by rail, all documentation is supplied by the rail provider to the terminal operations team in advance of arrival. Products are then discharged by drivers or the terminal operations team.

- Arrival by waterway

For products arriving on water, the skipper of the vessel or barge presents a waybill on arrival which is signed by the terminal team. Products are discharged by the terminal operations team.

The terminal operations team unload breakbulk products using a forklift or crane. The products are then placed on our specialist handling equipment, ready for vessel loading. For complex and oversized units, the team uses technical drawings with vital information on how the product should be handled and secured. We carefully calculate how to move products and the correct lashing arrangements to ensure it's safe and secure.

Meanwhile, self-propelled products such as cars and machines are unloaded and driven by skilled drivers to the first place of rest on the terminal.
Our terminals are capable of handling hundreds of cars, machines and breakbulk products every day. In a typical year, our terminal in Zeebrugge can handle over 850,000 tonnes of cargo.
4. Product inspections and tracking
As products move through our RoRo terminals a series of inspections take place, including damage checks. We use the latest tracking technologies to provide you with that all-important visibility of your products at all stages within the terminal.
Before products are loaded onto a vessel, modifications and checks can be performed at the terminal's vehicle processing centre (VPC) or equipment processing centre (EPC). Preservation work, such as applying a protective layer of fluid film, is a common request at our EPCs. More extensive preparation for market delivery such as customisation and pre-delivery inspections can be performed at the destination's RoRo terminal.

VPCs offer everything from additional checks, to repairs, accessorisation, homologation and charging the batteries of electric vehicles for transit.
We have a strict clean cargo policy. If any product does not match up to the regulatory guidelines of the destination country, our teams will contact the customer to coordinate the cleaning process. On-site cleaning stations at our terminals typically include a car wash for vehicles and high-pressure washing areas for machines.

Products destined for Oceania that have not been BMSB-treated prior to arrival at the terminal can get heat treatment or fumigation treatment at our terminal. Heat treatment is typically used for passenger cars and smaller machinery, while fumigation is the method of choice for larger breakbulk and machines. Heat treatment always takes place in covered, insulated facilities, while fumigation is carried out under a covered shed or sometimes in an outdoors facility for out-of-gauge cargo.
BMSB treatment requires careful planning as all units need to be treated within a strict timeframe before vessel departure. All treatments also need to be in full compliance with the regulations set out by the Department of Agriculture and Water Resources (Australia) and Ministry for Primary Industries (New Zealand).
7. Product staging and storage
Products can be temporarily stored while awaiting vessel departure if necessary. However, the average dwell time is short because our RoRo liner service operates to a frequent and reliable schedule. Sensitive cargo has the option to be stored under a roof to protect it from the elements.
8. Loading products to vessel
Our vessel planners use software to allocate each unit to a particular deck depending on its dimensions. This information is then used by the cargo superintendent to plan the vessel loading operations.

Once a vessel arrives at its designated terminal berth, stevedores start loading products and place them on the assigned decks of the vessel. Depending on the volume of cargo to be loaded, a typical vessel loading will take place on the same day, with operations starting at 6am and finishing at 10pm.
Click to download the PDF