Safety first: Using software to plan for complex shipments
Captain Fredrik Hedin is responsible for deciding how we handle your breakbulk. Here, he explains why our advanced technical drawing capabilities play an important part in ensuring safe and optimal loading and discharge of long, tall and heavy products.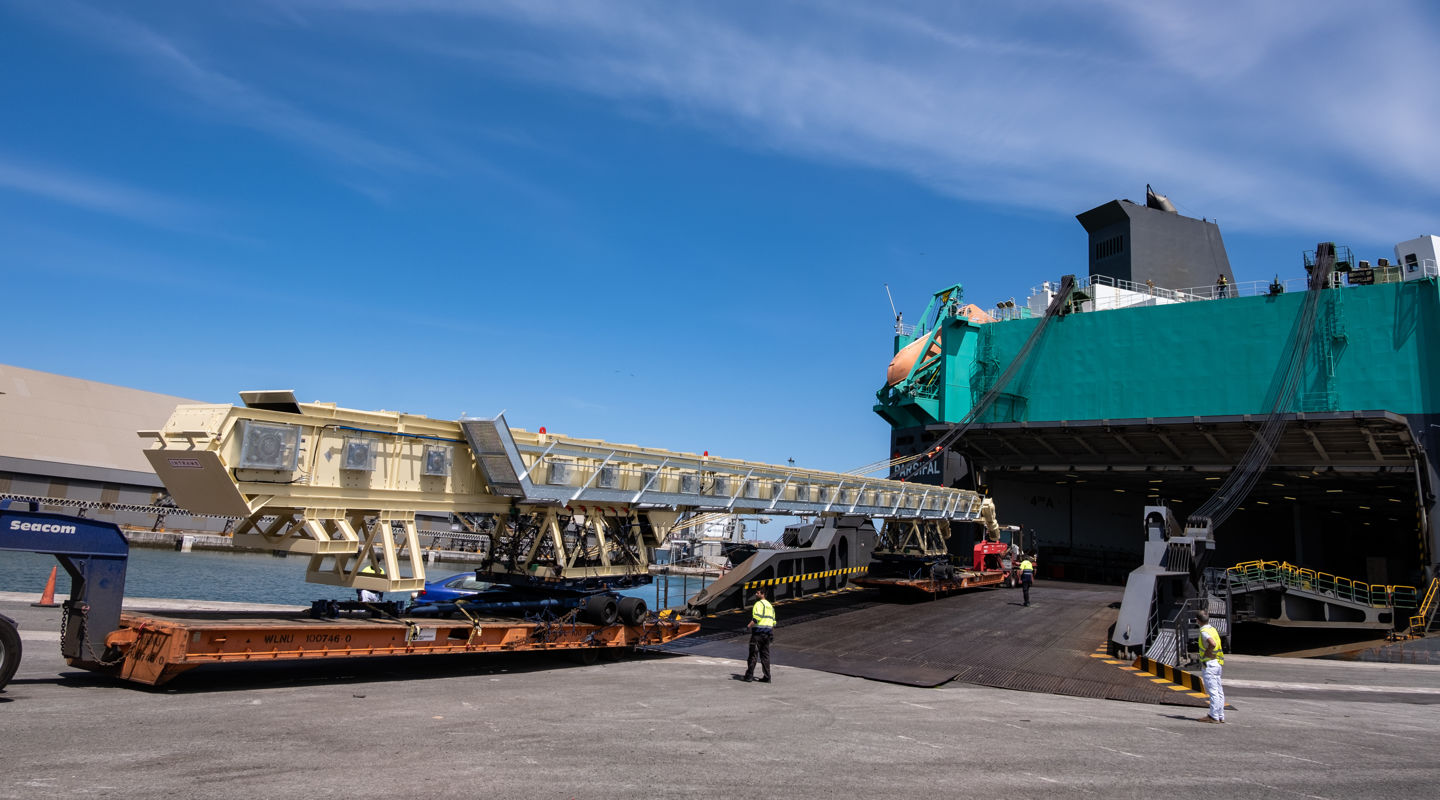 Whether it's an entirely spherical statue, a 39-metre long conveyor, or 10 luxury train carriages, my job is to determine how terminal staff handle and secure our oversized or unusual breakbulk shipments.

At WW Ocean, we follow the International Maritime Organization Code of Safe Practice for Cargo Stowage and Securing (CSS Code) for lashing and stowage on our cargo carriers and onboard our vessels. However, some products require extra planning and attention to detail.

That's why one of the first things we do when presented with a product is to use a computer-aided design (CAD) program to create detailed technical drawings. In a nutshell, these drawings allow us to model potential solutions for carrying breakbulk by assessing the weight of an object and its footprint.
Drawing up plans for delivery
Technical drawings help us determine what type of handling equipment and lashings should be used for a shipment, and crucially, if we need to adapt any of our handling equipment to load or discharge a product.

I'm currently working on a project that involves a 105-tonne cable reel. It's a heavy product, but the footprint is relatively small – 3.7m long and 3.6m wide. As a result, it doesn't easily fit onto any of our existing roll trailers. Our 9.1m roll trailer might be capable of carrying 140 tonnes, but to do so, the weight needs to be distributed across both edges of the trailer.

This is where technical drawings come to the rescue, by calculating the optimal position for a product on the handling equipment. Once that's determined, we can mock-up creative solutions, such as welding beams directly onto the roll trailer to ensure the reel is properly supported during loading and discharge from our vessel.

Occasionally, we design and manufacture new pieces of handling equipment from scratch, like the custom-built roll trailer and special discharge ramp we used to ship carriages for the Rocky Mountaineer train from Germany to the US.

In that instance, technical drawings helped highlight important considerations, such as the fact we needed a vessel clearance of 6.5 metres to take into account the increased height of the carriages once placed on the roll trailers.
Calculations, collaboration and communication
Alongside the CAD software, we use Excel to calculate lashing, ramp inclination and deck capacities, and also consider vital port information, such as berth height and tidal water.

When all of these factors have been weighed up, the next stage is to create a Method Statement that explains to our customer what we're going to do, how we plan to do it and who will oversee everything.

Collaboration and communication between all parties involved – from our customers to our equipment department and the team at the port of load – are essential to ensure all shipments are carried out safely.

Occasionally, I'll go to the port of loading and discharge when required to oversee an operation, but for the most part, we rely on the expertise of our cargo superintendents and stevedores in ports around the world to interpret the drawings and execute everything smoothly. Our teams on the ground are specialists in cargo quality, so customers can rest assured that their products will arrive safe and sound – whether it's a lengthy conveyor or a luxury train carriage.