The RoRo Rodeo arrives at the Port of Zeebrugge for the first time
Upholding safety – of our staff, our working environments and the products we transport across the globe – matters to us. Working in collaboration with our customers, our RoRo Rodeo in Zeebrugge is just one way we upskill our teams to safely operate complex machinery during the loading and discharge of RoRo vessels.
Held for the first time in Europe, the RoRo Rodeo offers hands-on training to our operations staff, dock laborers and agents to improve operational safety, quality and efficiency.
A knowledge-sharing initiative first launched in Baltimore in the US, the European instalment of the RoRo Rodeo saw more than 300 of our operations supervisors from across the UK, Sweden, Germany, Italy, Spain, Belgium, Greece, Turkey, France and Dubai take part over the course of the two-day event.
With a more diverse range of agricultural, construction and mining machinery than any other terminal in Europe, the Port of Zeebrugge was a fitting backdrop for our teams to learn first-hand about the intricacies of handling and operating a wide array of products.
"RoRo Rodeo is a great way to facilitate communication, information exchange, problem solving and team working, strengthening our safety and quality culture," says Mary Carmen Barrios, senior vice president for Wallenius Wilhelmsen's terminal and stevedoring operations in EMEA.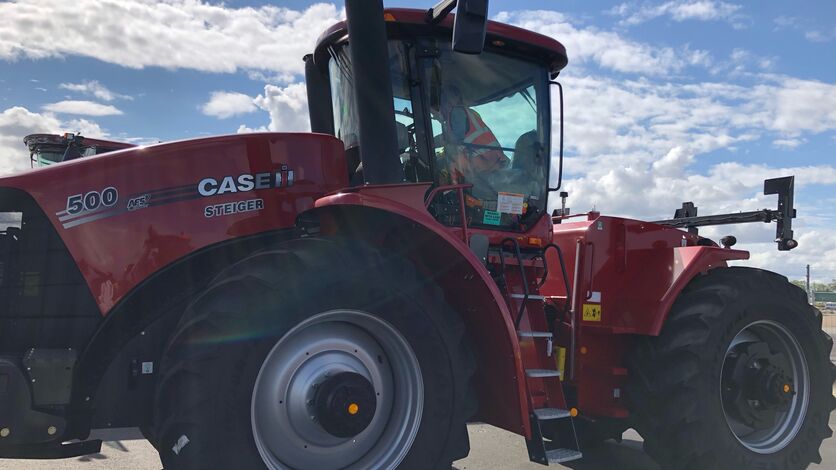 - Technical experts from our customers brought their vehicles and machinery and demonstrated how to operate them in the safest and most efficient manner.
Technical representatives from major machinery manufacturers were also on-hand to help with the practical training, which covered product securing techniques, ergonomic safety and damage prevention, as well as everything from basic starting and stopping to transport requirements.

"It was a good opportunity to meet people from operations and management at Wallenius Wilhelmsen," says Johan Vandewyngaerde at CNH. "People were also interested in the different customer products on display. For sure an initiative to be repeated in future."

By bringing customers, terminal operators and dock labor together, we aim to take our operations to the next level, adds Miriam van Overmeire, quality manager EMEA, Wallenius Wilhelmsen. "Sharing expert knowledge and listening to operational experience will help people to handle our customers' products in the best way possible and improve our quality."

Hopefully the first of many events in Europe, the RoRo Rodeo is a valuable opportunity for knowledge exchange between our customers and operations teams, helping to strengthen relationships.
Bringing port agents together
At the same time as the RoRo Rodeo, a port agents meeting was also held to bring together port agents from around the region to discuss topics such as port congestion and how to alleviate it, supply chain disruption, short-term solutions related to capacity problems and safety and best practices for EVs.
"Port agents are business critical partners as they interact with relevant stakeholders as terminal operators and authorities. We hadn't brought them together since before the pandemic, so it was a great opportunity to provide and receive strategic feedback, share priority targets and keep building our relationships with them," adds Barrios.