New electric trucks in the US help reduce emissions in land-based operations
We are happy to announce that Keen Transport, the US-based trucking company, part of the Wallenius Wilhelmsen group, is the latest area of our business to make investments to reduce the carbon emissions of its operations by partnering with Swedish freight mobility company Einride.
Sustainability and safety
Einride will provide Keen with a turnkey mobility solution including battery-electric (BEV) trucks that will be used for shuttle moves between the Port of Savanah, Georgia, and our nearby processing center in Pooler. Einride will also support the deployment of these trucks including driver training, charging infrastructure and date insights

"This investment demonstrates our commitment to reducing the carbon footprint of our land-based operations and our customers' supply chains. These efforts will allow us to realize our ambitions to provide zero-emissions logistics services," says Mike Hynekamp – chief operating officer, logistics.

Reducing greenhouse gas emissions remains one of our top priorities, and these trucks can serve as a crucial step towards meeting our goal to bring down our carbon intensity by 27.5 percent by 2030 – compared to 2019.

While many BEV and other alternative-fueled trucks are being deployed for a variety of purposes, these new trucks will allow Keen to be a forerunner in zero-emissions trucking in the heavy haul industry.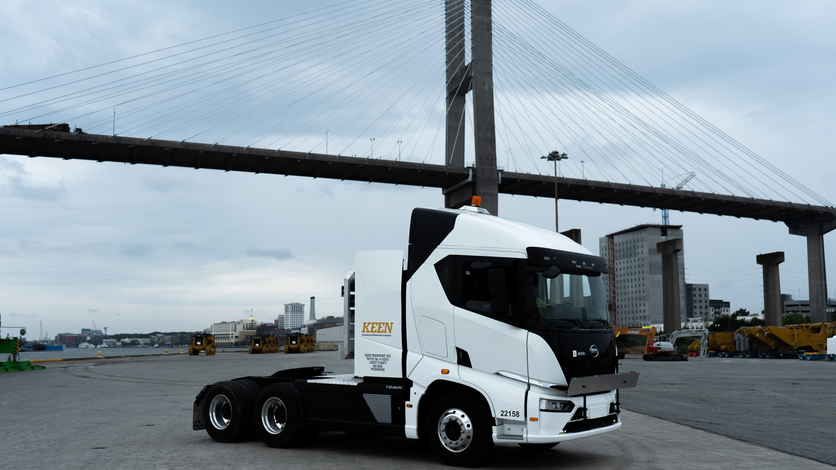 For now, the trucks will be used for machines and parts loads of less than 80,000 pounds. The trucks will haul loads using Keen's existing fleet of specialized trailers. Drivers will also enjoy the perks of having a new truck with the latest safety features.
Mike Rye – senior vice president high & heavy services, North America said it was crucial to ensure the electric trucks could support the size of the loads and complete the turnaround times of the existing trucks."The average loads we haul for the construction and mining industry are large and heavy. We have run numerous tests to determine the load capacity and charging needs so that we can continue to operate in the efficient and timely manner that our customers are accustomed to," says Rye.
The partnership with Einride was in large part due to the work of our internal digital accelerator, which seeks out and works with innovative companies to find technology solutions that can improve our operations.

Roopesh Das, SVP digital & IT, digital accelerator, says "The Digital Accelerator is an open innovation platform, that fosters collaboration between external partners and our business units. It's a creative nexus where cutting-edge technologies and novel business models join forces to create impactful and meaningful solutions, that can be piloted, deployed, and scaled rapidly. He continues: "Together with our transportation experts, the digital accelerator and Einride worked for more than a year to source the trucks and necessary support to make this a reality.
As technology and business models accelerate rapidly, tackling pressing industry challenges, like the shift to zero emissions, demands a holistic, ecosystem approach. Roopesh says "By fostering active collaborations across technology sectors, customers, industry, government, and academia, we can make a tangible impact. The launch of this service exemplifies the power of partnerships."