Quayside power generator wins Orcelle Award
We are excited to announce the winner of Orcelle Award 2021 - Element Resources.
"I'm very happy to announce Element Resources as the winner of the 2021 Orcelle Award at The Ocean Exchange. Element Resources have a solution concept for generating green power on the quayside for vessels at berth, says VP Global Sustainability, Roger Strevens.
The concept involves a containerised hydrogen fuel cell stack that would provide ports with a way to avoid grid power infrastructure and availability issues.
Like so many innovators, Element Resources still have significant hurdles to clear before becoming market-ready, but the core of what they are doing has a huge potential and the $100,000 Orcelle Award could provide them that vital boost needed to fulfill their potential.

VP Global Sustainability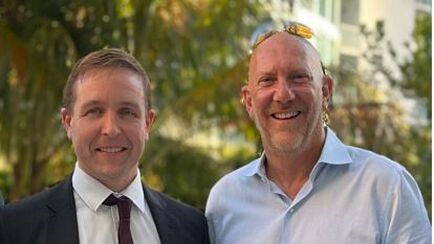 Roger Strevens and Hank Robinson, President and COO
"We are extremely honored to have been selected as the winner of the 2021 Orcelle Award. We are looking forward to a long, close relationship with Wallenius Wilhelmsen through the energy transition and beyond", says Steven Meheen, Chief Executive at Element Resources.
About Orcelle Award & Ocean Exchange
Ocean Exchange hosts an annual event each fall where at least ten finalists pitch, competing for one of two $100,000 cash awards. Presentations are done in front of 100-150 hand-selected delegates from business, government, and academia who vote who receives the awards.

Ocean Exchange has its sole mission to help advance the adoption of solutions in the field of sustainability. We seek solutions with working prototypes that reduce waste and the use of nature's resources while increasing productivity and respecting cultures around the world.