What does it take to transport giant wind turbines from Europe to Australia?
With their huge blades and nacelles, delivering wind turbines is far from a breeze. Follow this recent delivery to discover what makes RoRo shipping the reliable choice for customers in the renewable energy sector.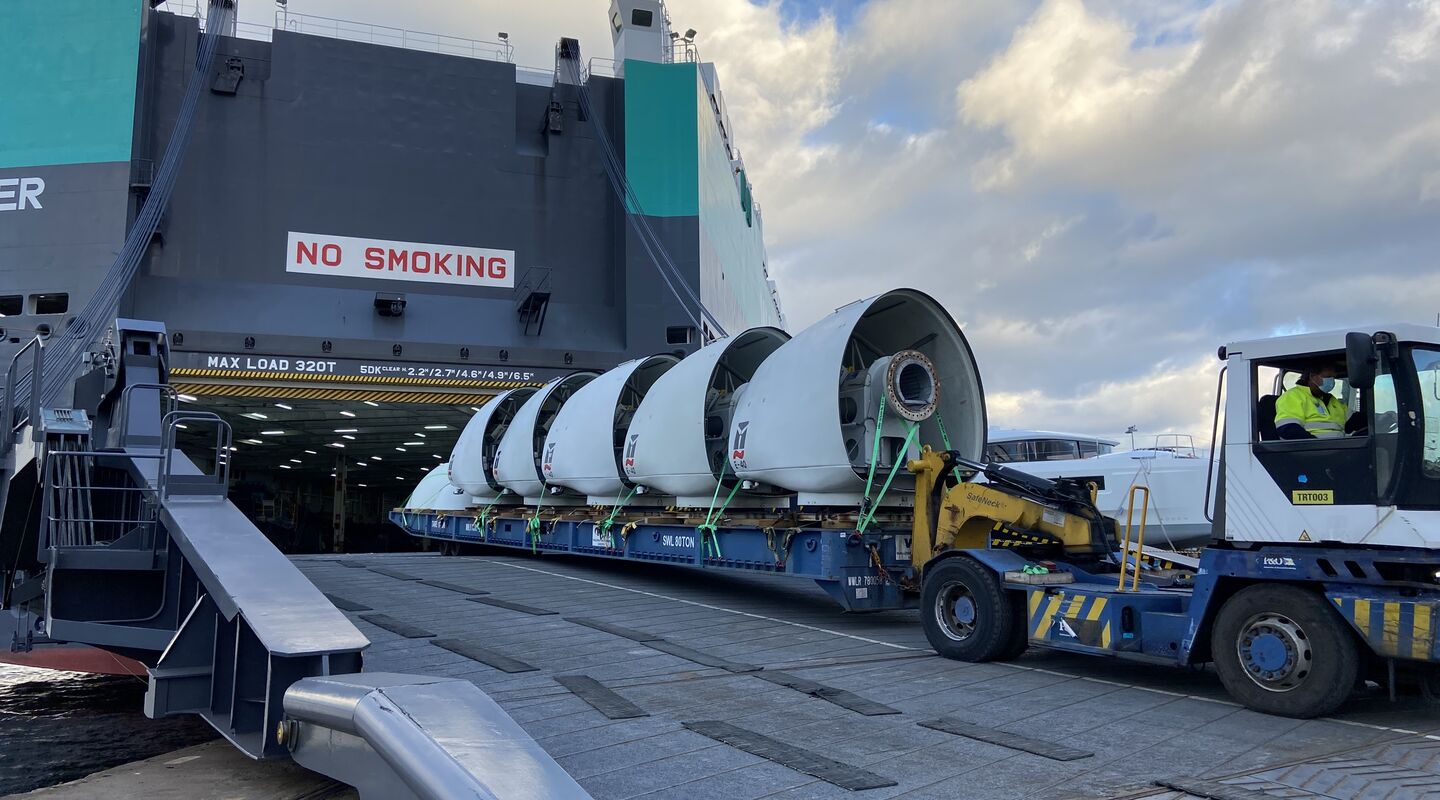 As one of the main renewable energy sources in Australia, wind contributed 10% of the country's electricity supply in 2020 alone. With the industry continuing to grow, so does the size and complexity of the components required to harness this important source of power, as well as the need for reliable solutions for shipping to Australia.

For forwarders a. hartrodt Denmark A/S and a. hartrodt Australia Pty Ltd. who were tasked with shipping five used wind turbines from Bremerhaven, Germany to Fremantle, Australia for KSR Wind Solutions GmbH, the sheer physical size of the components wasn't the only challenge it needed help with. It also required a logistics partner with a thorough understanding of local market requirements, particularly biosecurity regulations in Australia.

Destined to be deployed by Blair Fox, an electricity company that builds and operates wind farms in Western Australia where wind power makes up 37.5% of total renewable energy supply, the main priority was to deliver the wind turbine safely, swiftly and in keeping with local government regulations, explains Gert Mikkelsen, operational director at a. hartrodt Denmark A/S. "WW Ocean has a regular liner service to Australia and great experience with quarantine, cleaning and BMSB issues. Its support in all these matters proved invaluable."


RoRo shipping is the safer way of delivering renewable energy products
Shipped on MV Tannhauser, one of WW Ocean's HERO vessels, roll trailers were used to safely load the wind turbine components onboard.

With five base/mid-section tower stacks, each weighing 51 tonnes and measuring 21.3 metres long; three top tower section stacks measuring 25 tonnes; and two blade stakes weighing up to 15 tonnes and 26.2 metres in length, the use of specialised handling equipment ensured minimal lifting to reduce the risk of damage to these high-value products.

Once onboard, underdeck stowage provided extra protection and ensured the products were kept safe from the environment.

"Our knowledge as well as the size of the vessels are key factors in the success of this shipment," confirms Jens Svendsen, Wallenius Wilhelmsen Bremen.


WW Ocean has a regular liner service to Australia and great experience with quarantine, cleaning and BMSB issues. Its support in all these matters proved invaluable

Operational director, a. hartrodt Denmark A/S
Integrated solutions allow for better planning
A reliable ocean service and safe handling solutions were only one piece of the puzzle, however. Our integrated logistics services meant we could also offer trucking from site to KSR Wind Solutions GmbH's compound for survey and then from the compound to the terminal at Bremerhaven. Here our team oversaw terminal handling, cleaning and cargo lashing surveys for the customer.

"We were able to offer a one-stop solution with all these services in place, which ensured the customer was able to deliver its product to destination as seamlessly as possible," Svendsen explains. "If the customer had a requirement, we were able to find a solution for them."

Careful planning is always important when dealing with cargo of this size. "The major challenges we often encounter when transporting renewable energy components are mainly on the road due to the dimensions of the products, so Wallenius Wilhelmsen's attention to detail and experience has been a great help," explains Mikkelsen. Certainly, close collaboration was key to devising a detailed route plan that ensured both the road and ocean leg of the journey were optimised to carry such huge loads.

"By combining the strength of our ocean services with our logistics expertise, we were able to deliver a lean solution for our customer, giving them peace of mind," adds Svendsen.

Source: National Electricity Market Data, opennem.org.au