Supply chain 101: What exactly is an equipment processing centre (EPC)?
Did you know that equipment processing centres provide a myriad of services for OEMs – from storage and full-scale equipment customisation to dispatch services and accessory fitting? Let's find out more…
With 46 equipment processing centres (EPCs) around the world, WW Solutions is well-placed to help global OEMs get their equipment and machinery to market as quickly as possible, and in the best possible condition for the end customer. But what exactly is an EPC? And how can an EPC save customers money while ensuring the timely delivery of specialised machines?
1. EPCs are conveniently located both at ports and in customers' own production sites…
WW Solutions and Keen Transport process rolling equipment for customers both at or near ports and at factories. On-port EPCs, off-port EPCs and in-plant EPCs carry out a range of services including customisation, fabrication, final assembly and storage. In-plant EPCs are dedicated to a specific OEM and are located on-site with the customer or adjacent to their factory. In either case, the EPCs help customers streamline distribution, reduce transit costs and provide an efficient connection between all parts of the equipment supply chain.
2. EPCs will be chosen based on an OEM's business priorities
An on-port EPC can be a good short-term solution, particularly if the machine is due to be shipped directly from the port or left in storage for a short period of time. Off-port EPCs offer lower storage and labour rates, which makes them suitable for long-term storage and customisation work. In-plant EPCs will allow the OEM to focus on manufacturing, while Keen and WW Solutions focus on outbound functions, such as the disassembly of large mining units so that they can be broken into truckloads before delivery.
EPCs can also provide services including pre-delivery inspection, accessory fitting and repairs. Pre-delivery inspection might include exterior washing and cleaning of equipment, for example, or the fitting of attachments. And as well as ensuring machinery gets to the customer on time and in the correct condition, an EPC can also store and maintain equipment for as long as the OEM needs.
3. Some of the biggest names in the industry rely on EPCs to get their equipment to market
Many household names use WW Solutions and Keen EPCs, including some of the biggest names in construction, mining and agriculture, as well as some major industrial conglomerates.
4. EPCs are a cost-effective solution when it comes to customisation and storage
Historically, when a new piece of heavy machinery needed to be stored or technical services like up-fitting or customisation needed to be performed, the dealer has been responsible. The same was true for cars 50 years ago. But what the automotive industry learned is that specialty processing centres could perform the work in a factory-centric setting in less time, more consistently and at a lower cost.
Today, virtually every imported or exported car passes through a vehicle processing centre. Heavy machinery OEMs and dealers can learn from this example – and can use an EPC from everything from light PDI work to extensive retro-fits. Time and cost savings are immediate, plus the dealer actually improves their profitability by using valuable shop space for retail repairs instead of idle storage. In addition, several truck moves can be eliminated since the machine bypasses the dealership and goes directly from the EPC to the job site.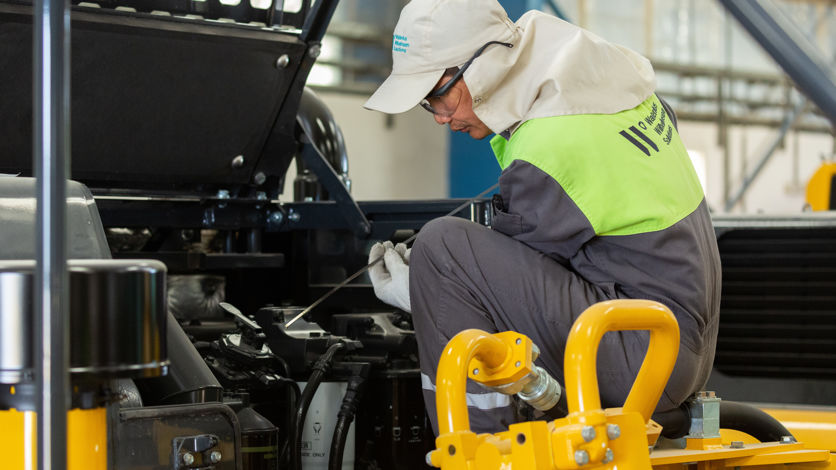 EPCs will be chosen based on an OEM's business priorities.
5. Some EPCs are practically an extension of an OEM's own business
While there's a misconception among certain OEMs that only they or certified dealers can perform work on their machines, many OEMs are now recognising how useful a strategically-located EPC can be. They are, after all, capable of performing complex customisation and modifications to a range of equipment. If an OEM's strategy is to shorten time to market and reduce inventory costs, an EPC provides a seamless extension of the business and allows them to get the job done. WW Solutions and Keen facilities work to the same exacting standards of the OEM, and OEM-certified mechanics are even employed at some WW Solutions' sites.
6. EPCs are a crucial link in the global supply chain
While most EPCs currently offer storage options for rolling equipment manufacturers, their offering is becoming more sophisticated all the time. WW Solutions anticipates that it's likely that heavy equipment EPCs will start to follow the automotive model in the future. In fact, they believe that all machines will eventually pass through an EPC at one time or another during their lifetime.
Fast facts
WW Solutions' and Keen's EPC offering
46 strategically-located EPCs across the world
3 types of facilities: on-port EPC, off-port and in-plant EPC
Offering pre-delivery inspection, customisation, accessory fitting, repairs, yard maintenance and receipt and dispatch services.