Boats & yachts
Travelling onboard one of our vessels might be an unusual way for your yachts and boats to travel, but it guarantees plain sailing.
Unlike other breakbulk segments, the boats and yachts sector is primarily oriented towards consumers, rather than industry. It's not surprising then that the economy dictates market trends. Since affordability is one of the major concerns when dealing with boat and yacht customers, the quality of transport logistics can end up being scrutinised less. However, the satisfaction of the end customer depends on the quality and punctuality of the final delivery.

The good news is that we can meet all of your ocean transportation needs regardless of your product range, from cradling and stowing smaller boats to arranging cranes to move larger yachts.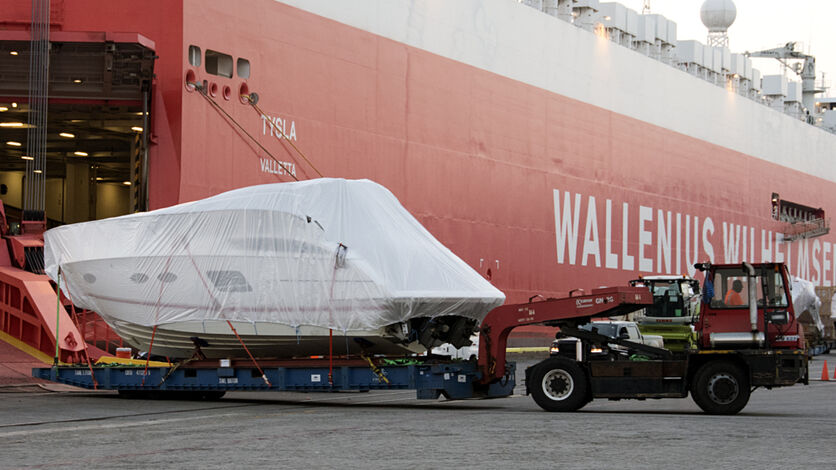 Our vessels can accommodate boats and yachts as tall at 5.25 m below deck, including cradles. This measurement takes into consideration the height of a standard roll trailer and a clearance of 20 cm between the top of the cargo and the deck above, to ensure safety.

Smaller boats and yachts that typically arrive at the port of loading on their own trailers are carefully towed on board, while larger boats and yachts that reach the port in cradles are loaded onto a roll trailer for stowage on board, or positioned on the weather deck by crane. At the port of discharge, we can also lift or deliver boats and yachts directly into the water using a floating, mobile or port crane.
Variety of cargo handling equipment
Our technical specialists are on hand every step of the way to oversee the whole operation and ensure the correct handling and stowage equipment solutions are deployed for a safe voyage. See our range of cargo handling equipment for boats and yachts.
Equipment solutions for boats & yachts
Equipment details
< 140 MT
Cargo max weight
< 28 m
Cargo max length
20'-80' feet (6-24 m)
Equipment length
2.5 m
Equipment width
0.44-1.1 m
Equipment height
Roll trailers
The workhorse of our equipment fleet, roll trailers have been developed for cargo up to 140 tonnes. Roll trailers are simply towed on and off the vessel. Cargo types: all kinds of breakbulk from machine tools to crane counterweights. We also offer specialised railed roll trailers for rail cars and extra low profile roll trailers for particularly tall cargo.
Equipment details
< 23 MT
Cargo max weight
9 m
Cargo max length
< 3.5 m
Cargo max width
6.10 m
Equipment length
2.44 m
Equipment width
0.23 m
Equipment height
Bolster
Designed for smaller breakbulk cargo which is not suited for direct stowage on a vessel deck. Bolsters are suitable to minimise the handling operation in the port as several small pieces of cargo can be loaded on a bolster and forklifted onboard. Cargo types include: steel plates and coils, small yachts, crates and machinery.
Our trade maps provide a great overview of WW Ocean's global liner services. The detailed maps specify ports of load and ports of discharge, transit time and frequency as well as other practical info.