Why our Tacoma facility offers supply chain benefits to machinery OEMs
With its expansive processing centre and inland trucking and ocean services, our Tacoma facility on the US west coast delivers a single solution helping agricultural, mining and construction machinery OEMs boost supply chain velocity.
A single provider for all your logistics needs
Strategically positioned for OEMs to sell to dealers in the Pacific Northwest region, our Tacoma equipment processing centre (EPC) not only helps speed up time to market but also benefits from access to a Free-Trade Zone, enabling customers to postpone, reduce or even eliminate customs duties.

Tacoma is an important port in our shipping network, with a regular RoRo liner service to and from Asia and Europe. The fact that our EPC is located close to the shipping terminal means your machinery can be moved quickly and efficiently from the port to the processing facility, saving time in the supply-chain.

In addition, our inland trucking services from the EPC to end customers and dealers also help boost your supply chain velocity.
Scroll for images of our equipment processing services in action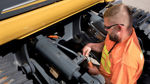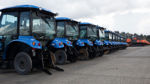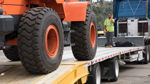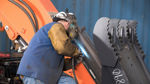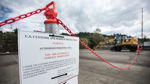 Greater flexibility and reduced time to market
Another advantage of our EPC is the range of services on offer, which include storage and preservation, pre-delivery inspections, assembly, finish-to-order customisation, kit installation and tire changes.

In addition, the facility features a new Rubb storage building and extra acreage for truck loading and unloading.

When combined with its location, these services bring added flexibility to OEMs who can store machines until they determine the final destination, thereby reducing their dwell time between when a machine is ordered and ultimately delivered.
"Our Tacoma EPC enables OEMs, including those in the roadbuilding, agricultural, forestry and mining industries, to have inventory available close to end delivery, which reduces lead times when dealers place an order for a machine," says Dan Higgins, senior manager for EPC business development. "As soon as a dealer places an order, we can customise the machine and arrange transportation to the final customer, which helps improve time to market.

"Our skilled technicians perform these services on a daily basis, so customers and dealers alike can expect high quality," he adds.
Fast facts
The Tacoma EPC
19 acres of paved parking

Very close to our ocean transportation berth
Free-Trade Zone (FTZ) incentives
Easy access to I-5 Interstate
10,000 square feet of covered parts storage
Eco-friendly wash bay with oil/water separator
Two finish-to-order work bays
Services: Receiving/shipping, storage, exercise, pre-delivery inspections, minor paint and body repair, rust prevention, washing, welding, hydraulics, electrical, assembly, finish to order customisation, kit installation, tire work
Truck loading, unloading and rigging