Why logistics matter to global equipment manufacturer Terex
Colby Mayberry is the newly relocated Asia Pacific director, logistics and distribution, at equipment manufacturer Terex. Here, he explains what he values most in a logistics provider – and outlines the challenges involved with serving emerging markets such as China and India.
Terex works in a number of emerging markets. What are the challenges of supplying cranes and aerial work platforms to these economies?
In Asia-Pacific, we ship products to places where there's very little infrastructure. We produce a lot of mining equipment, and mines aren't always located in the most populous areas, so getting equipment there can be difficult. We often work with customers to co-ordinate the final leg of logistics locally themselves – local people tend to know best. In India, we even had a situation where we were delivering mining equipment and a flood washed a road away! We have to deal with challenges like this more often than you might think – where the infrastructure to deliver the product won't be built until our product arrives. That's the exciting part about our industry: we make the products that make infrastructure to move our products.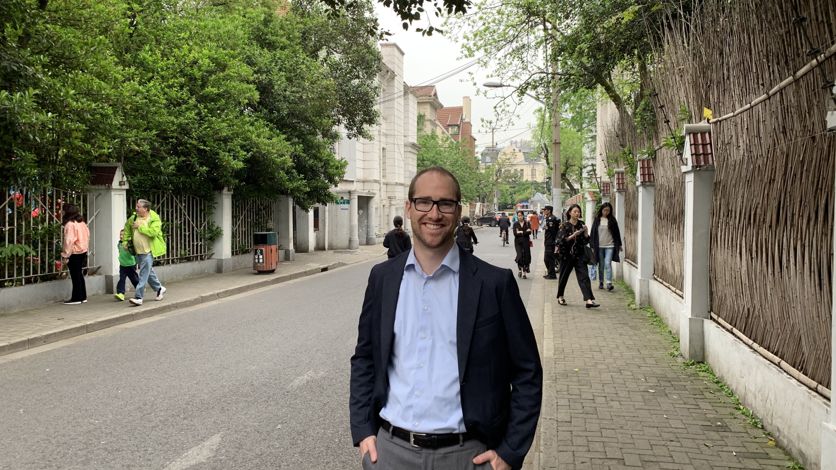 Colby Mayberry is the newly relocated Asia Pacific director, logistics and distribution, at equipment manufacturer Terex.
Which emerging markets are working well for Terex?
It's not strictly an emerging market, but Australia is important for us because of the strength of the mining industry there. India is an important market too, which is why we manufacture there. This is a good time to be in construction, and in the Asia-Pacific region we're seeing strong results, too.
Give us an insight into the size and scale of the equipment you ship around the world.
We ship the Demag CC 8800-1 crane, which can lift 1,600 tonnes and has a hook height of 231 metres. It can take 90 truckloads to transport the crane in pieces to a port. If we sell the counterweights with the crane too, it's an additional 90 truckloads. It's pretty big! That means a requirement for big logistics, too. Between 2017 and 2018, Terex shipped about 2,000 units by RoRo – which equates to more than 400,000 cubic metres of equipment. We serve global markets, and we have manufacturing facilities all over the world, including in the US, Northern Ireland, Germany, Italy, China, Australia and India.
What technological innovations are on the horizon in the construction space?
Everyone wants to have visibility of processes on their smartphone – and construction is no different. The next technological innovation involves putting information at people's fingertips, and we need to ensure that we're collecting information from machines for the user via telematics, and from our freight companies. The aim should be to not have to think about the technology we're using – that's what Apple has achieved with iPads and iPhones. The construction industry doesn't tend to move as fast as the consumer goods space, though – so we need to catch up.
As someone whose company ships large machinery around the world, what do you look for in a logistics provider?
Openness and transparency are the most important qualities. We don't want people who hide information: good, bad or indifferent, we need to know. Anyone can make a part and transport it. But when things go wrong, who'll be there to fix the problem? The logistics providers we use have a mindset of continuous improvement and a willingness to share information. Something as simple as responding to an email on the same day can have a huge impact on customer satisfaction.
What's your relationship with WW Ocean like?
WW Ocean is an important partner for us, and we invest in the relationship because we want our logistics providers to grow with us. Most of the conversations we have are focused on innovation and improvements, not problems. But when there are problems – such as with the stink bug issue – the company does the right thing by developing a strategy to address the problem and keep customers informed.
What would you most like to achieve in the next year in your new role?
I'd like to educate Terex on the importance of logistics. There can be this expectation of an 'Amazon-esque' experience – and while I'm a big fan of Amazon, they don't ship cranes or heavy freight! For us, the challenge is ensuring that everyone understands the dos and don'ts of heavy freight transport.
Your role at Terex has just seen you relocate from Switzerland to China. What are your first impressions of Shanghai?
China never stops moving! People say New York is the city that never sleeps – but it's definitely even more true of Shanghai. I can be out at midnight and people are still working. They're just creative when it comes to getting things done, and problem solving. That's sometimes a good thing – and sometimes not.