We're doubling our capacity in Zeebrugge: Here's how it will benefit our customers
With the expected rise in global manufacturing volumes, our expansion at the port of Zeebrugge brings new opportunities to customers looking for carbon neutral and streamlined supply chain solutions to meet growing market demand.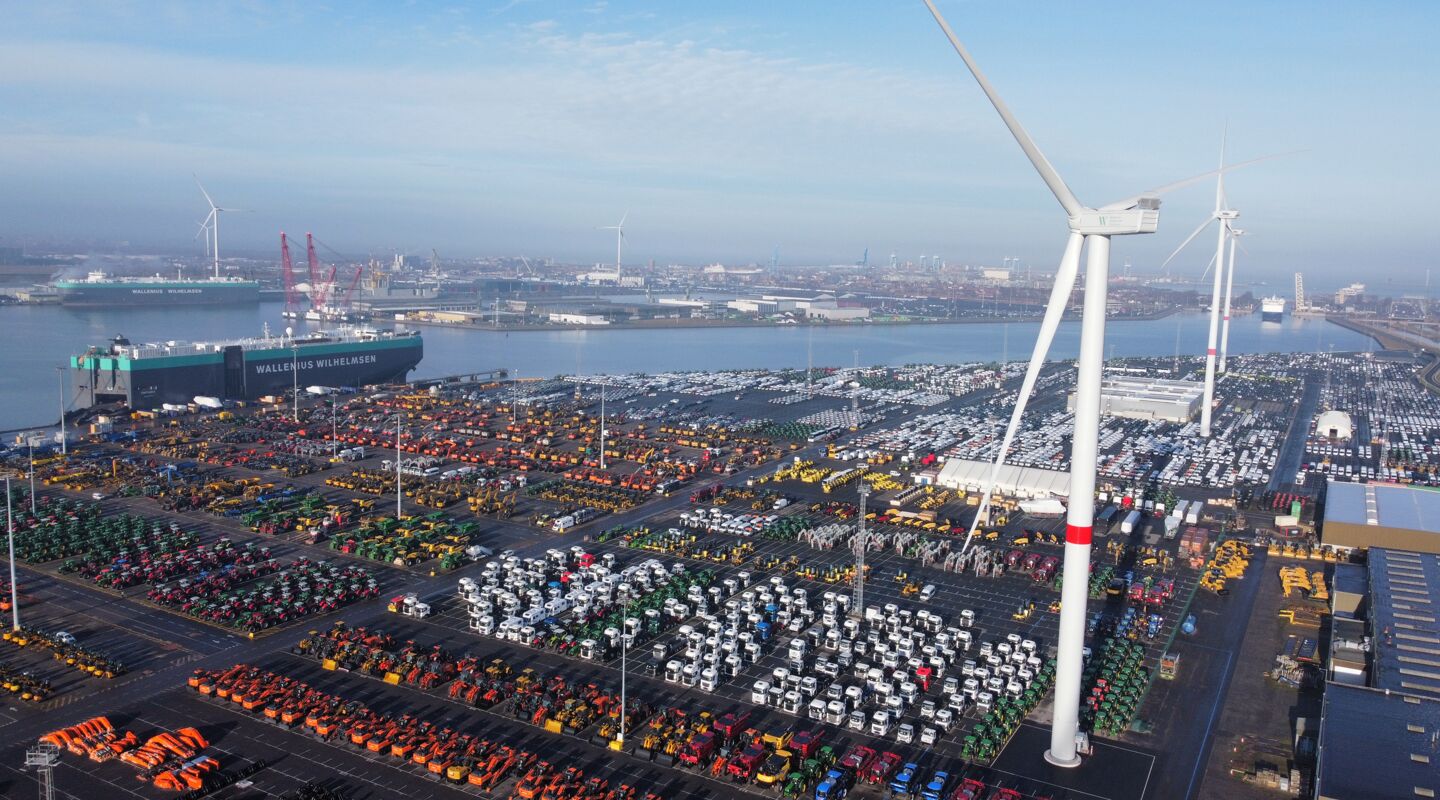 As the number one RoRo port in the world, with a network of deep-sea, short-sea and inland transportation connections, Zeebrugge, Belgium is a strategic hub for those looking to access key markets. But, as demand continues to increase, space capacity is putting additional pressure on supply chains.

Recognising the need for additional capacity for vessels and customers' products, our expansion at the port of Zeebrugge is designed to give machinery, automotive and breakbulk OEMs and forwarders greater support across their supply chain, from shipping and processing to inland distribution.

"With the increasing volume throughput and the continued challenges of port congestion globally, it was natural for Wallenius Wilhelmsen to begin acceleration of our investment expansion strategy in Zeebrugge, with the aim of keeping pace with our customers' demands," says Mike Hynekamp, COO logistics services at Wallenius Wilhelmsen.
1. Strategic location to access key markets in Europe
From electric vehicles and renewable energy products to heavy machinery, activity at the port of Zeebrugge is showing no signs of slowing down. To accommodate this growth, our development in the Bastenaken West area will help customers take full advantage of Zeebrugge's central location and easy access to European markets.

With 10 hectares of developed land at Bastenaken West currently, the next phase of the expansion plan will see the construction of a 1,000 square metre vehicle processing centre, an automated carwash facility and an additional 21 hectares of storage and processing area to be ready in April 2023. The approximate 49-hectare expansion is expected to be complete by 2027.

Three new vessel berthing positions, which will also be offered to other shipping lines, will provide greater vessel capacity while additional infrastructure will afford us greater flexibility to process and store more vehicles and machinery.

The new terminal area will double our footprint at the port of Zeebrugge and help to solve current bottle necks experienced across the supply chain.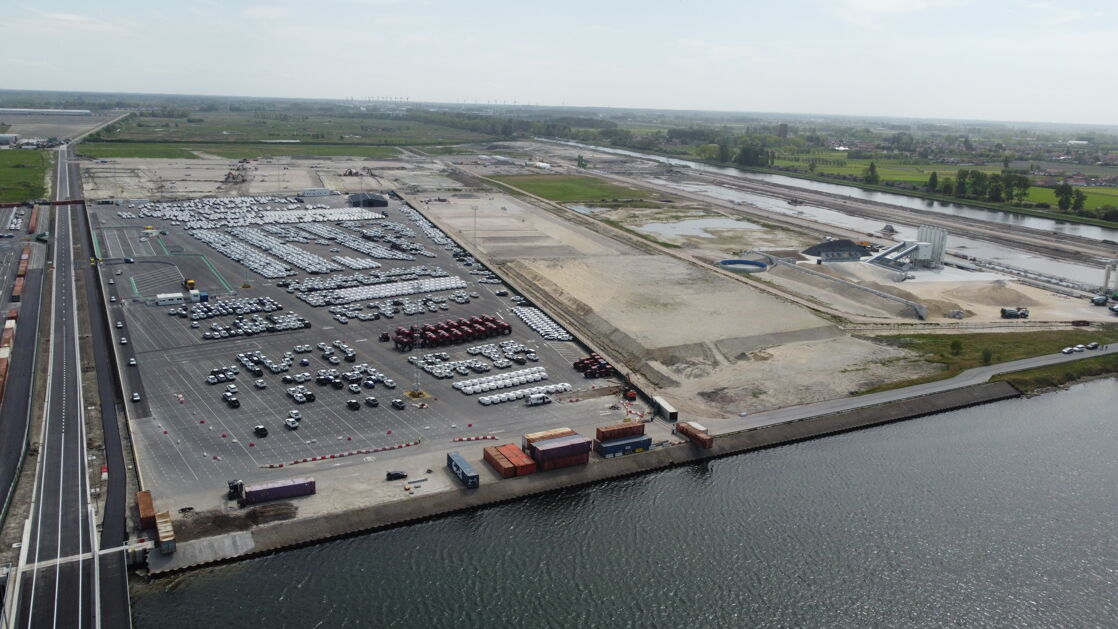 With the first 10 hectares of land already developed at Bastenaken West, the 49-hectare expansion is expected to be complete by 2027
2. Technical capabilities and facilities to meet global EV manufacturing volumes
With European sales of electric vehicles outpacing diesel models, this expansion is a timely addition for EV manufacturers who have a growing need for processing services.

With the total expansion of approximately 49 hectares of terminal yard capacity dedicated to loading and unloading, as well as processing through a vehicle processing centre equipped with a fully automated car wash, we're able to scale up the scope of our services, including quality checks, charging of High Voltage (HV) batteries and market adaptation, as well as customs clearance.

Plans are also in place to install electric vehicle charge points, with 11KW power for each, with the potential to upgrade according to the needs of our clients.

"Our operation at Zeebrugge, including the existing terminal area and the expansion area, is perfectly positioned to process electric vehicles and transport them throughout Europe," says Hynekamp.

Beyond electric vehicles, the new RoRo Terminal will also have the flexibility to carry out processing services for heavy machinery and more capacity for breakbulk handling.
3. New investments to support more sustainable supply chains
With our ambitions for all new terminal equipment to be zero emission by the end of 2022, carbon neutral terminal sustainability has been top of mind in the expansion plan.

In an effort to build a CO2 neutral site and develop more environmentally responsible ways of working, we will invest in a number of new technologies to move our Zeebrugge terminal off the grid, which will help reduce the carbon footprint of our customers' supply chains.

Plans are in place to install three windmills to power our EV charging stations' chargers and heat pumps. Metal prefab buildings, which will be fitted with solar panels, are slowly replacing concrete ones, providing energy efficient infrastructure to lower our carbon footprint during the production process. Our automatic facility will adopt a practice of water recycling, reusing water three times to minimise the amount of fresh water being used to wash cars and ensure 90% of the water is recycled. Plus, all waste-water will be cleaned to prevent pollution ending up in the sewerage system.

In addition, we have ambitions to ensure all of our own service transportation on terminal is carried out with electric vehicles. Looking further ahead, introducing 'cold ironing' will mean all our vessels are powered from land while at berth, reducing pollution during loading and unloading.

"Wallenius Wilhelmsen is committed to the expansion of infrastructure, new technologies and sustainability practices at our Zeebrugge terminal to best serve not only our customers but also the community," says Hynekamp.
Fast facts about our Zeebrugge expansion
With an additional 49 hectares at Bastenaken West and the current 50 hectares at Canadaquay terminal, we will have a scalable storage area of up to 99 hectares by 2027
Capacity to store up to 15,000 cars
Ability to handle complete cargo mix
True hub & spoke concept
3 new multi-user berthing positions for vessels by 2027
A 1,000 square metre multi-purpose vehicle processing centre
3 new windmills to power EV charging stations