Ultra-marathons and auto trends: 24-hours with WW Solutions VP South Africa
How does a marathon-running VP balance the demands of the evolving South African auto logistics landscape with a strict training regime? We spent 24-hours with WW Solutions' VP South Africa Faheem Hoosen to find out.
With my daily alarm set for 4am, you could say I'm something of an early riser…
An average day starts with prayer and reflection, followed by strength training or running. I'm a pretty serious long-distance runner – I participate in several half-marathons and marathons each year, and have successfully completed South Africa's Comrades Ultra-Marathon (56 miles) twice! I do a mix of hill running, track work, speed-work, weight training and endurance, and I guess you could say I take it pretty seriously…

At 7am, it's time for a quick breakfast of fruit and yoghurt, and a read of the morning papers.
In my role at WW Solutions, keeping on top of local and international business trends is important. I'm a voracious reader and read a lot of books and journals on disruption, technology and wider business. At the moment, I'm reading Eat Their Lunch: Winning Customers Away From Your Competition by Anthony Iannarino, which is all about how to displace your competitors by positioning yourself as a strategic partner in a highly commoditised marketplace. It's fascinating.
I'm normally in the office at 8am for meetings with my team and customers…
As Vice President WW Solutions South Africa, five functions report into me either directly or indirectly: Operations, IT and Business Intelligence, Finance and Risk, Business Development and HR. I spend the majority of my time focusing on how to create the ideal environment for good work to happen. Of course, on a more detailed level, I'm reviewing operational summaries of previous days, following up on open items, interacting with clients and keeping members of our WW Solutions South Africa Board of Directors up-to-date with anything important. As a contract-based business, my team works hard to demonstrate to our customers the value and strategic benefit we deliver on a daily basis.
Working in the car industry suits me perfectly because I'm a real petrolhead…
I started out working at the Toyota South Africa factory in 2003 – I was one of 15 engineering graduates chosen to be part of an accelerated Management Development Programme. In 2007, I moved to what was then CAT-WWL Logistics and became involved in two really exciting projects: the first, a contract with Renault South Africa, and the second with Volkswagen South Africa. In my current role, I'm lucky enough to sometimes see prototypes of vehicles on a regular basis, which is another perk of the job.

I've been at WW Solutions South Africa for over 10 years and in that time have seen the auto industry change dramatically…
South Africa has moved from being a net importer of cars to a net exporter, which is partly down to the incentives the government has put in place for auto brands to invest in manufacturing here. Demand for new cars is now growing in Africa, and with relative political stability, particularly in East Africa, we're starting to see substantial investment from brands like VW and Toyota in countries like Kenya and Rwanda, which is great. The other big change has been the shift from OEMs utilising a single trucking company for all of their storage and distribution requirements to a multi-carrier model with a neutral yard management service provider – WW Solutions has very much been a driving force behind this shift in the country.
For me, my stand-out memory at WW Solutions was being selected to join the executive team at the Wilhelmsen Exchange in Oslo last year…
It was a fascinating few days of discussion and I was honoured to be chosen to take part. It really made me feel part of the Wallenius Wilhelmsen family and something bigger. I also loved Oslo, particularly when I spotted a rainbow over the fjord outside the office! I'm lucky that in the last year my role has involved a fair bit of international travel – last year, I visited our headquarters in Oslo twice, as well as Belgium, Dubai, Djibouti, Tanzania and Ethiopia.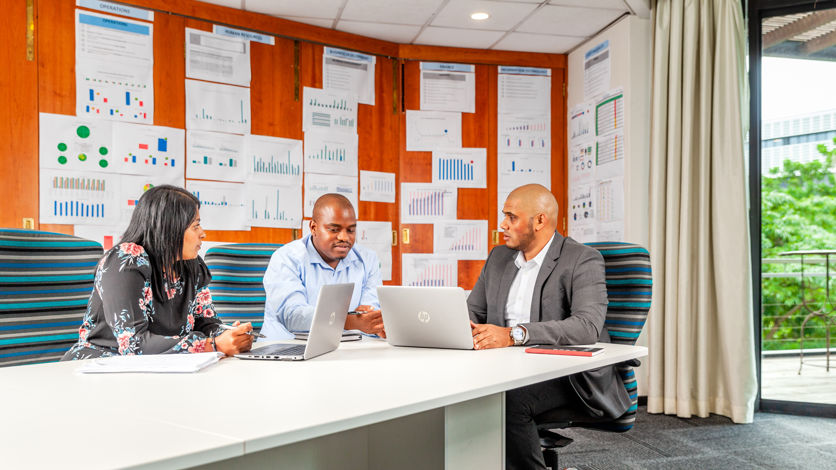 "I've been at WW Solutions South Africa for over 10 years and in that time have seen the auto industry change dramatically."
Being a good leader is about working for your team, reflecting on your experiences and being committed to life-long learning…
Human beings are continual works-in-progress – we never reach the end of the rainbow! And it's good to remember that learning isn't confined to the classroom, a business book or a development course: we have the opportunity to learn every day from everyone, and the best leaders recognise that.
For me the best thing about working at WW Solutions is the fact that our company values really reflect my own personal values…
Trust, imagination, candour, courage and speed are all hugely important at Wallenius Wilhelmsen. They're not just buzzwords. They're embodied by our leaders in a variety of ways, which is very important to me.
After a busy day, I try and leave work on time so I can have dinner with my wife and catch up on current affairs…
Although I'm not a big TV fan, I'm pretty obsessed with Game of Thrones. But with my 4am wake-up call, it's perhaps unsurprising that I'm not much of a night owl. I tend to be in bed by 9.30pm, so that I'm fresh and ready for the day ahead.
My weekends tend to be spent doing what I love – family time and exercise…
Giving back is something I strongly believe in. I sit on the board of a charity that focuses on turning today's charity receiver into tomorrow's charity donor through empowering marginalised women in the greater Durban area. In the past, we've sought to empower solely through paying for school and university fees, but we soon realised that you can't 'feed a hungry mind on an empty stomach'. As well as paying for tuition fees, we now provide weekly grocery packs, transport fares, basic toiletries, clothing and, where required, laptops and tablet devices. In total, we work with 80 women every year, and my role is focused on strategy, fundraising and staffing. At the weekend, I also love exploring Durban itself, which is a hugely multi-cultural city. Having travelled a lot internationally, I can confirm that we really do have unbelievably good weather too!