The breakbulk toolkit: Which cargo handling equipment is right for you?
Whatever the size, scale and complexity of your breakbulk, we have both the equipment and experience to handle and transport your products safely and efficiently. Learn more about our cargo handling equipment solutions.
The safe loading, stowing and discharge of breakbulk requires a combination of highly trained personnel and the latest customised cargo handling equipment. And while our long history in handling high, heavy and long loads speaks volumes, so too does the wide range of equipment used to roll cargo on and off our vessels – some of which has been specially designed in-house. So which equipment is best suited to your breakbulk needs?
Designed for breakbulk of up to 23 tonnes that can't be stowed on a vessel's deck, bolsters help minimise the handling operation in the port, with several small pieces of cargo loaded on a bolster and forklifted onboard. Product types suitable for bolsters include steel plates and coils, small yachts, crates and machinery.
The workhorse of our equipment fleet, 4,600 roll trailers vary from 20 to 82 feet in length and have been designed to handle any type of breakbulk up to 140 tonnes in weight and 28 metres in length. We also offer a wide range of specialised low profile and railed roll trailers, too.
Multi-purpose Boogies (MPBs)
MPBs are perfect for long, narrow cargo of up to 140 tonnes and are used in pairs. They can be fitted with rails, a long platform or connected together to create a lighter duty version of a Samson trailer. Suitable for products measuring between six and 18 meters in length, MPBs can be fitted with different attachments to create a roll trailer-like cargo carrier, which can be manoeuvred from both ends. MPBs are typically used for rail cars, fabricated beams, generators, transformers and industrial tanks.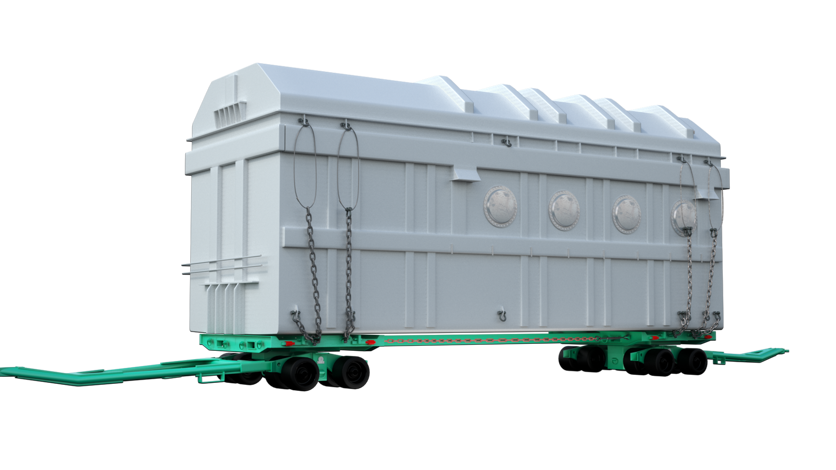 The Samson light consists of one set of MPBs which are connected together with a pushbar. The pushbars are designed to fit each product and are therefore available in several different lengths. This handling equipment has the same advantages as a regular MPB, but it also offers two separate supporters and a heavy footprint, enabling weight to be evenly distributed between the two bogies. The equipment is typically used for generators, transformers, rotors and heavy steam drums up to 140 tonnes in weight.
Samson heavy-lift trailer
An original WW Ocean design, the Samson heavy-lift trailer is ideal for breakbulk of up to 220 tonnes. Available in eight, 10 and 16-metre variations, these trailers are typically used for products such as transformers, generators and turbine rotors.
For the heaviest breakbulk, jack-up trailers with blocks and beams can be configured to suit the product in question. The units, which can handle up to 400 tonnes, are stowed on blocks and beams during terminal storage and onboard the vessel. This is an ideal way to handle products like large transformers, generators, boilers, tunnel boring machines and hydraulic press machines.
A combination of equipment
Although our equipment meets most requirements, breakbulk sometimes requires novel, outside-the-box solutions.

Breakbulk has always been a priority business and our global network, local port knowledge and regular RoRo liner service means we can provide safe and smart solutions at the lowest total transport cost.