Siemens Energy values safety and proactive support in its ocean provider
The heads of logistics at two Siemens Energy transformer factories explain what they look for in a logistics partner and the benefits of shipping power generation products by RoRo.
Siemens Energy has been shipping transformers manufactured at its Austrian factories in Weiz and Linz for 100 years. With an export quota of 80%, these two sites play a pioneering role in producing ever larger units with increasingly high voltages to serve the global electricity grid.

However, moving such bulky, highly complex products across the oceans demands a shipping solution that prioritises safety.

"Safety first is our motto," says Renate Weidinger, head of logistics at the Siemens Energy factory in Linz. Safety measures, she explains, cannot by compromised at any time. This applies not only to the safety of the teams involved, but to the units being transported.
Each of our transformers require tailor-made logistics solutions, so we need qualified partners who are experienced in this kind of operational handling.

Head of logistics at the Siemens Energy factory in Linz
Safe handling solutions with RoRo minimises risk of damage
From carefully lashing and securing products to tracking pressure gauges at predefined steps along the journey, safe handling and attention to detail is key when shipping transformers.

"Transformers are very sensitive products that need to be handled with caution during transportation," says Andreas Maierhofer, head of logistics at the company's transformer factory in Weiz. "All Siemens Energy units are equipped with shock recorders, which require continuous monitoring, especially once the units are loaded onto blocks and beams," he adds.

With RoRo, customised handling equipment solutions mean even the heaviest and most oversized power generation equipment can be safely rolled on and off a vessel. With a large range of roll trailers, multi-purpose bogies, samson light, samson heavy-lift trailers and block and beam, RoRo offers a variety of options to cater for a wide range of transformers. This ensures both flexibility and capacity are maximised. When used in combination with blocks and beams for example, some RoRo vessels are designed to carry transformers of up to 400 tonnes in weight, with very limited lifting requirements.

"The fact that our transformers can be rolled onto the ship also makes us less dependent on port infrastructure," continues Maierhofer. "This is especially true of our heavy weight transformers that can exceed regular crane capacity and instead require costly alternative options such as self-geared vessels."

Once onboard, the unit is stored on its handling equipment for the entire journey, again minimising the risk of damage. What's more, with RoRo all loading, stowage and discharge operations are overseen by skilled teams with the technical expertise to ensure products stay damage-free for the duration of the voyage.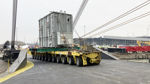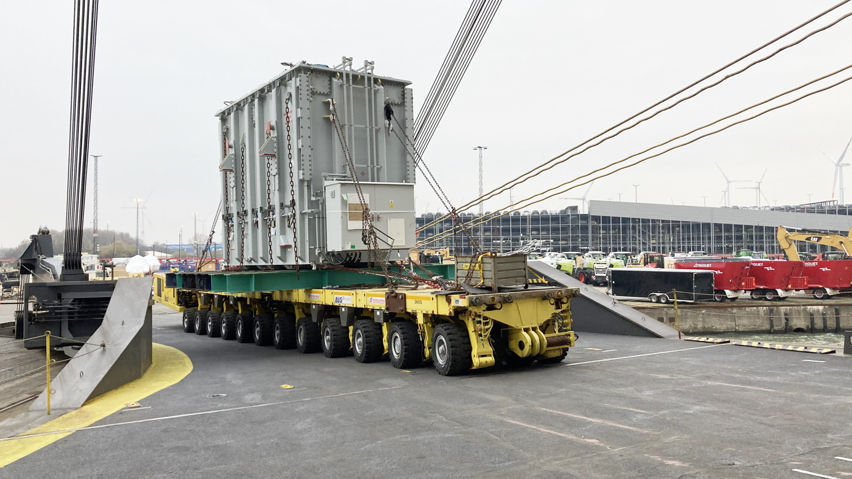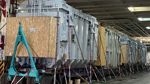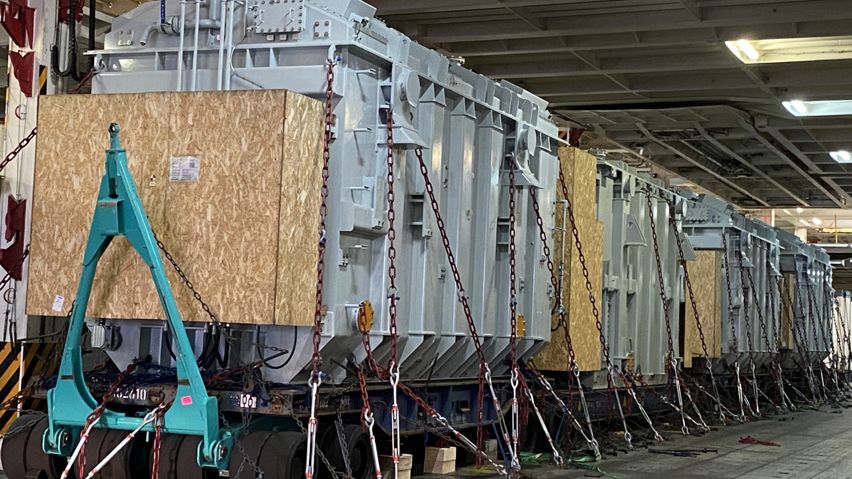 Reliable liner services to meet capacity
As the world strives towards a more sustainable future, the demand for renewable energy continues to rise. According to the IEA, renewable capacity additions are currently on course for a record expansion of almost 10%.

To support this growth, a regular supply of products such as transformers is essential. For manufacturers like Siemens Energy this means frequent and reliable ocean services to respond to production schedules and on-site deadlines.

"In order to meet our customer's deadlines, flexibility and a high frequency of possible departures are a must," confirms Weidinger. "That's why we look for partners who can deliver proactive support, for example securing availability even at short notice to help us meet deadlines."

A frequent RoRo liner service also means a more predictable supply chain, giving manufacturers and plant operators the ability to respond to unforeseen challenges, she adds. For example, if an urgent replacement part or transformer unit is required at a site, the regular timetable offered by RoRo can help avoid further delays and minimise downtime.
To meet our customer's deadlines, flexibility and a high frequency of possible departures are a must. That's why we look for partners who can deliver proactive support

Head of logistics at the Siemens Energy factory in Linz
Collaborative partnerships essential for success
Both Weidinger and Maierhofer believe that diligence and constant dialogue are crucial for successful and safe shipments.

"Timelines for departures and arrivals, method statements and other special circumstances all need to be considered collaboratively at an early stage," Maierhofer says.

"Ultimately, we need logistics providers that not only meet our requirements but are willing to go the extra mile," he continues. "This not only manifests itself in big things such as adapting vessels by upgrading ramp capacities and door heights, but in the smaller things, such as having trailers and handling equipment ready and preparing cargo terms in advance, all of which greatly facilitates our daily business."

With competitive transit times and vessel frequencies as well as specialised handling solutions and technical expertise, Wallenius Wilhelmsen Ocean (WW Ocean) has supported Siemens Energy to deliver transformers for various projects in its key North American market.

"At Siemens Energy, we believe in strong, long-term business relationships with our customers and clients – ones that help both parties to continuously improve themselves. That's why we are glad to have WW Ocean at our side."
How RoRo and WW Ocean supports Siemens Energy's supply chain
Siemens Energy is driving the transition to more sustainable, reliable and affordable energy solutions with innovative technologies and a dedicated team across 90 countries. Here's how WW Ocean's RoRo liner service supports its shipping needs:

1. A global network and regular shipping schedules ensure on-time delivery to meet project deadlines.

2. RoRo vessels are designed to transport oversized power products, such as generators, turbines and transformers.

3. An extensive pool of specialised handling equipment for power products, including roll trailers and multi-purpose bogies, minimises risk of damage to sensitive units, during loading, stowage and discharge.

4. Skilled teams with handling expertise ensure all requirements are met, for example tracking pressure gauges throughout the journey and monitoring shock recorders.