RoRo delivers sustainable shipping for record press brake shipment from Sweden
Shipping the world's longest press brake from the wilds of Sweden to the US is no small feat. With RoRo's safe handling and breakbulk capabilities, this record-breaking piece of manufacturing machinery was safely transported across the Atlantic, while cutting greenhouse gas emissions by half.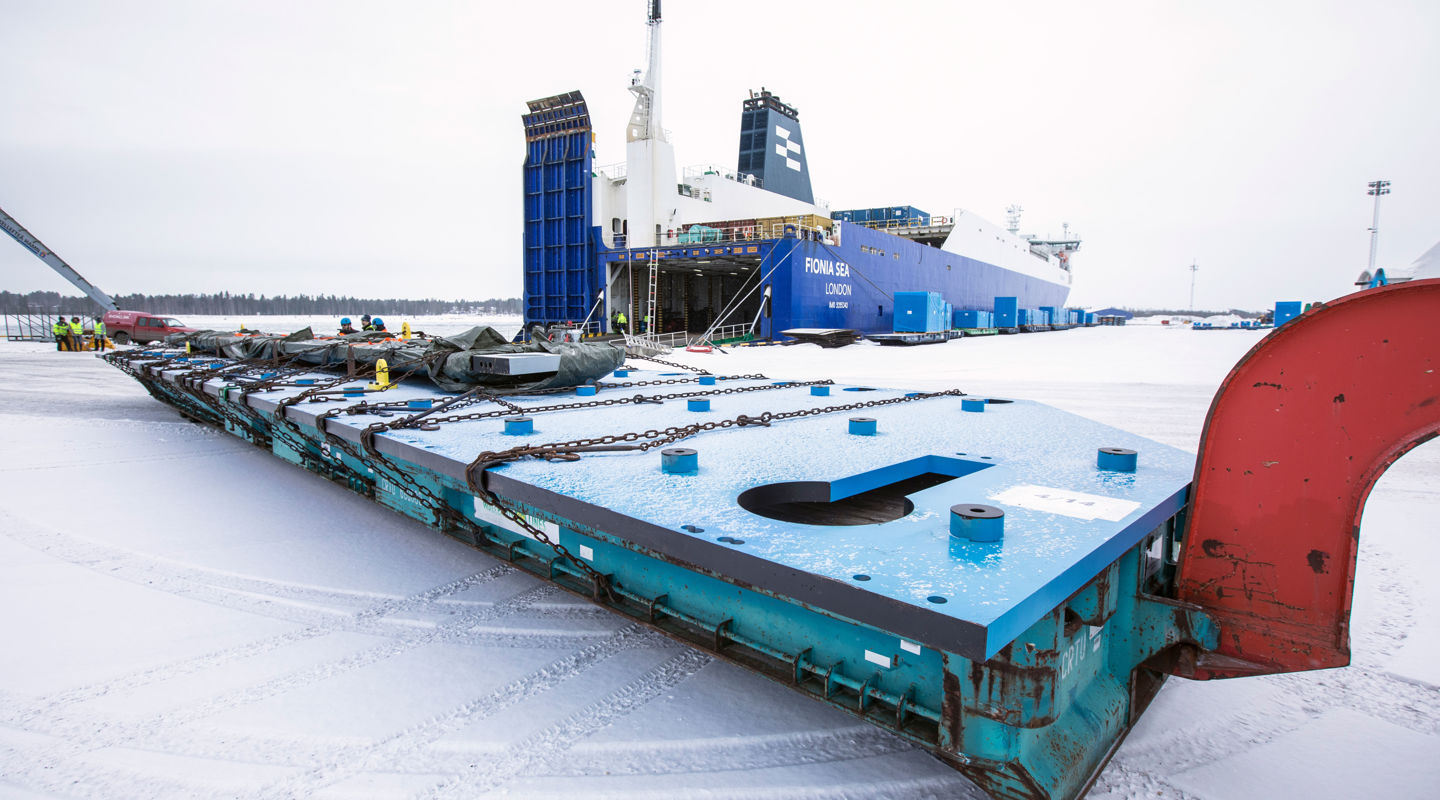 One of the biggest challenges freight forwarder Greencarrier Freight Services faced when tasked with shipping a 500-tonne Optima press brake from Ursviken Technology's Skellefteå factory to the US was finding a safe and reliable service.

Ursviken Technology is based in northern Sweden, where transport options are limited. The manufacturer needed an ocean partner that could transport the shipment from the local port, ensuring faster lead times, lower costs and reduced emissions.

"We knew that loading the cargo in Skellefteå would allow us to cut CO2 emissions by over 50% to Antwerp compared to trucking the big pieces to Gothenburg. Not only that, it would also minimise the risk of damage as the press brake components wouldn't need to be reloaded," explains Johan Karlberg, regional manager North Sweden, Greencarrier Freight Services.

Despite Skellefteå not being part of its regular network, Wallenius Wilhelmsen, working in partnership with short sea carrier Wallenius SOL, was able to meet Greencarrier's needs, offering a through bill of lading from Skellefteå port to Charleston in the US.

"Offering a combined transport solution with a Wallenius SOL feeder service connecting to our Atlantic service we were able to deliver a safe, cost-efficient and sustainable solution," says account manager Anneli Larsson, Wallenius Wilhelmsen, Sweden.
Safe handling solutions and technical capabilities minimise risk
Dismantled into 14 components, some measuring 20 metres in length, up to 4.3 metres in width and weighing over 63 tonnes each, the press brake required careful handling.

"Drawings and load calculations were made by our technical team in close cooperation with the customer to find the best solution for fitting and loading the pieces on our handling equipment," says Larsson.

After careful planning, five 62' roll trailers and two 40' roll trailers – part of Wallenius Wilhelmsen's fleet of equipment for safely handling breakbulk cargo – were used to load the components in Skellefteå with both Ursviken Technology and Greencarrier Freight Services present.

"An added benefit of loading at Skellefteå was that both us at Greencarrier and the manufacturer were able to inspect the cargo handling, lashing and vessel loading," says Karlberg. Loading the product at Skellefteå instead of hauling it long distance by truck also protected the components against rust from the salted roads.

Once loaded onboard the Wallenius SOL vessel, the product was shipped to Antwerp where it was discharged and wheeled into storage still lashed to the handling equipment to protect against the elements while waiting for the WW Ocean vessel to take it to its final destination in Charleston, US.
Offering a combined transport solution with a Wallenius SOL feeder service connecting to our Atlantic service we were able to deliver a safe, cost-efficient and sustainable solution.

Account manager, Wallenius Wilhelmsen, Sweden
Safe, reliable network supports sustainability efforts
Shipping direct from Skellefteå not only reduced lead times, it also contributed to a significant reduction in CO2 emissions – a top priority for Greencarrier Freight Services and its customer.

"We always want to find solutions that are as climate-friendly and safe for our customers' cargo as possible," says Karlberg. "The most important factors we consider when choosing a partner is a high service level, green mindset and agile thinking."

By working with our partners and expanding our strong and reliable network, we see opportunity to offer more sustainable transport solutions on our waterways.
Header image courtesy of Wallenius SOL.