Offshore wind and supply chain gear up for global expansion
Offshore wind energy is expanding globally, with Europe and China currently leading the way when it comes to development of the sector. But how are manufacturers of offshore wind products optimising their supply chains to manage growth in other parts of the world?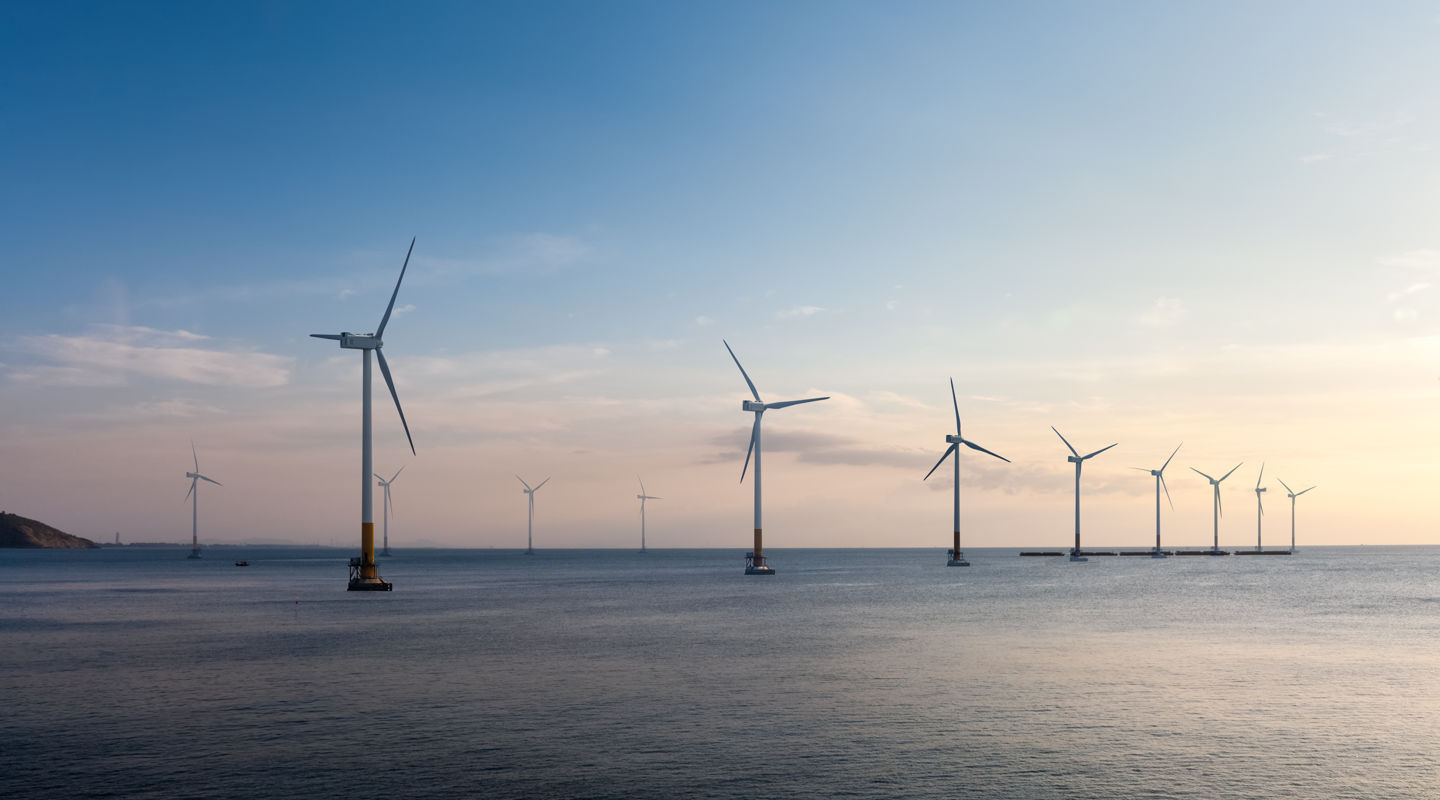 Autumn 2019 saw a remarkable record achieved by the power generation sector in the UK: for the first time, more electricity was generated from renewable sources than fossil fuels in a three-month period.
During the third quarter of the year, renewable energy contributed 40% of the electricity requirements of British homes and businesses, with fossil fuel-fired plants – principally gas-fired power stations – contributing 39%, and nuclear power just under 20%.
From the coasts of South-East England to Scotland, it was wind energy that underpinned this growth of green energy. A string of landmark developments in the British wind sector over the last decade has given the UK an overall wind power capacity of 8,496MW, which compares favourably to Germany, the closest European competitor, with a wind power capacity of 6,586MW.
In fact, the UK leads the world when it comes to the installation of offshore wind turbines. That's a position that's likely to be maintained, as construction began last year on additional offshore wind farms destined to boost UK wind power capacity by 2,882MW.
Wind turbines: equipment size and effects on the supply chain
But what are the logistical difficulties of supplying this sector? Part of the challenge is the sheer scale of the equipment involved. Offshore wind turbines are getting bigger, as engineers work to maximise the amount of energy they generate. Some of the latest turbine designs include the 9.5MW Vestas V-164, with a rotor diameter of 164 metres, and General Electric's 12MW Haliade-X, the world's most powerful machine, which has a 220-metre rotor and is 260 metres tall.
"In the late 1990s, we thought turbines would not get bigger than 1MW," recalls Patrick Moriarty, lead for the turbine modelling and wind resource group at the US National Renewable Energy Laboratory (NREL). "But the sheer size of machines for offshore has continued to increase. The turbine cost is not necessarily pre-dominant: you might as well get as much energy as you can."
While the main focus is on the transportation of wind turbine components such as blades, nacelles, gearboxes, generators, towers, and so on, which seem to be getting ever-larger, and therefore pose increasing challenges to available infrastructure, equipment such as subsea and submarine cables for connecting offshore wind farms to the onshore electricity grid are also a vital part of the system, and require a high quality service to optimise their supply chain. Experts believe the offshore wind sector may need to adopt lessons from other industries like construction and mining, where machines and equipment have also grown in size over time and are now often transported in smaller sections or kits and put together at the final destination.
The world's leading port for offshore wind
The Port of Esbjerg in Denmark has become Europe's leading port for shipping offshore and onshore wind turbines. Danish company Vestas is one of the leading global wind turbine manufacturers, and there are also prominent manufacturers in Germany, who transport their machines to the port by road for global export.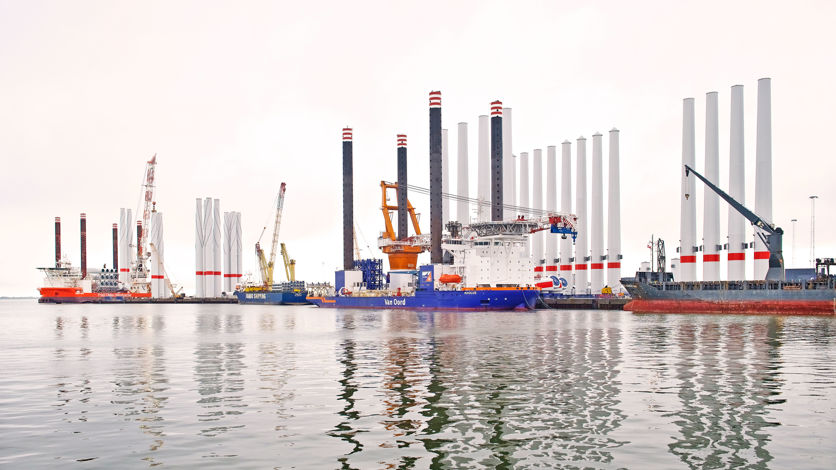 The Port of Esbjerg in Denmark has become Europe's leading port for shipping offshore and onshore wind turbines. (Image provided by the Port of Esbjerg.)
Dennis Jul Pedersen, chief executive at the port, says that half a million tonnes of on- and offshore wind turbine components pass through Esbjerg each year. In the next six or seven years, the port will be expanded by 20%, he says.
"Today we have four and a half million square metres at Esbjerg. We need another million square metres, specifically to cope with demand from the offshore wind sector. We lay up offshore turbine blades, nacelles and towers and pre-assemble them, and that requires enormous amounts of space."
Specialist handling equipment at Esbjerg includes Scandinavia's largest fleet of mobile harbour cranes, capable of lifting 448 tonnes, and self-propelled wind module transporters. In the future, specialised RoRo vessels are likely to be used for transporting larger, very heavy wind turbine components, Jul Pedersen says, because cranes may not be capable of lifting them on to container or conventional vessels.
Forecast growth in the wind industry up until 2030 will place considerable demands on the supply chain. "Once the turbines needed are broken down into constituent parts, including blades, sections of tower, and hubs and nacelles, it equates to two-and-a-half million items of cargo globally over the next decade," Jul Pedersen estimates.
Emissions reduction: 'taking millions of cars off roads'
Globally, last year set a new record for installations of offshore wind turbines, says Wind Europe. Future expansion will play a vital role in cutting greenhouse gas emissions in the US and China. There are already eight offshore wind farms with more than 100MW capacity in China, and although the industry has been slow to develop in the US compared to Europe, the Department of Energy estimates North America has a potential 10,800GW of gross offshore wind capacity.
Meanwhile, there's no doubting the positive impact of the sector on the environment. In 2018, the electricity generated from on- and offshore wind avoided an estimated 200 million tonnes of CO2 emissions – a reduction equivalent to the greenhouse gas emissions from 43 million cars, according to the American Wind Energy Association.
When it comes to combating climate change, there's no doubt an even bigger, bolder offshore wind sector is crucial to securing a greener future.
Offshore wind weathers Covid-19 storm
Despite the impact of Covid-19 on global industry, Bloomberg New Energy Finance (BNEF) says the offshore wind sector should continue to develop as forecasted in 2020, although BNEF has downwardly revised forecasts for growth of onshore wind. BNEF says most of this year's capacity will come online in China and that construction there is relatively unaffected, while many European projects are already at a late stage of construction. "Most developers remain adamant that construction schedules are on track," BNEF says. (Source: Riviera Maritime Media).