Ocean Exchange: On a mission to accelerate sustainable innovation
Millicent Pitts, CEO of Ocean Exchange and Roger Strevens, head of sustainability at Wallenius Wilhelmsen, are on a mission to find and support innovative tech ideas to help decarbonise shipping and advance sustainable solutions. Since 2013, they've been making the annual Orcelle Award the hottest game in town for ocean innovators who might otherwise struggle to take their ideas to the next level.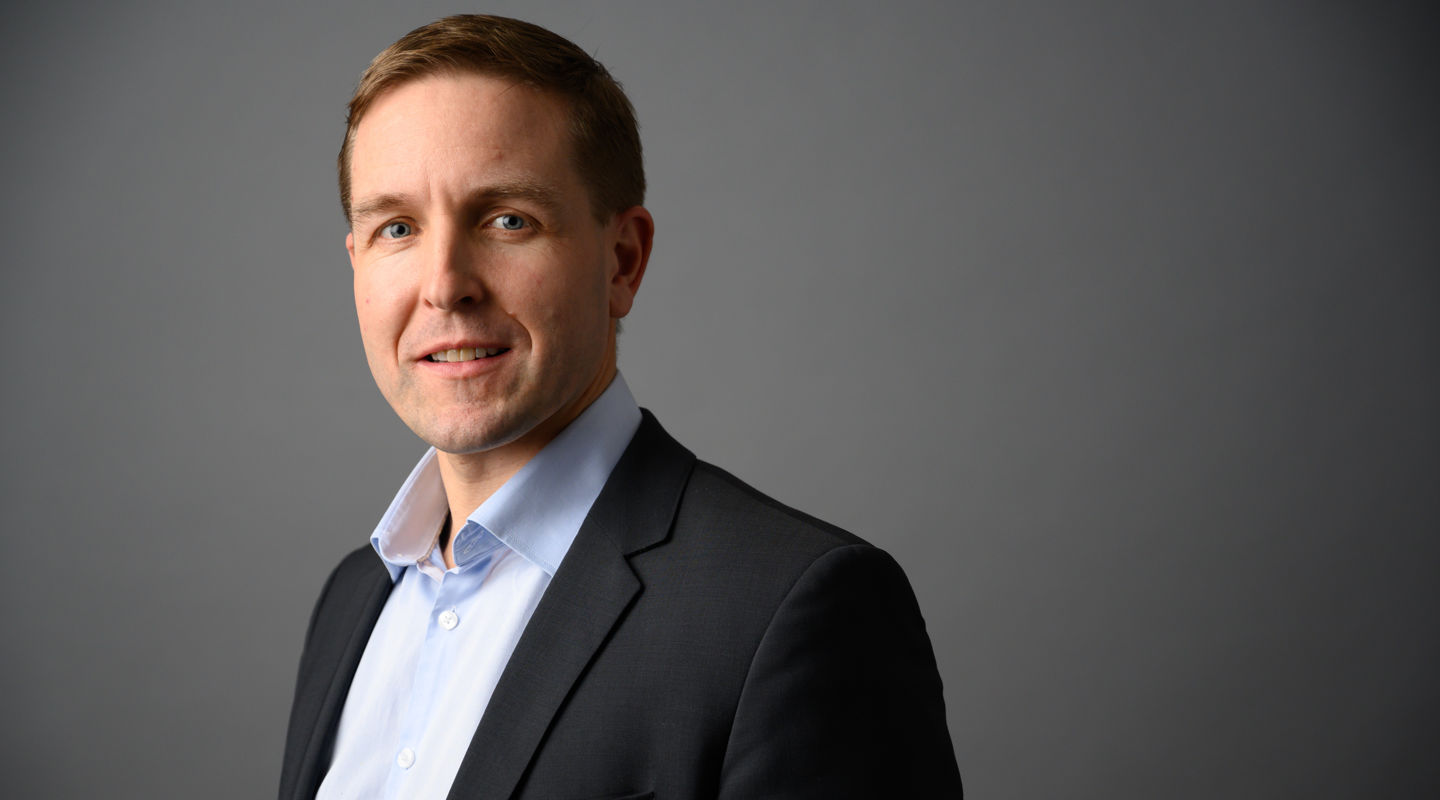 "Find, fund, foster."

Millicent Pitts, CEO of Ocean Exchange, a sustainable technology accelerator, offers an admirably concise answer when asked to describe her organisation's mission.

With the imperative to address sustainability issues and climate change gaining acceptance, the urgency conveyed in her staccato response seems apt. Meeting these challenges means developing new sustainable solutions – and fast.

The hunt is now on for eco-smart solutions that can help make things better – and Ocean Exchange, which helps sustainable innovators grow, is playing a crucial role.
Picking a winner from dozens of great ideas
Pitts and the Ocean Exchange review team, made up of leading lights from industry, finance and academia, have already assessed the ideas of hundreds of environmentally-friendly tech start-ups.
The 2019 Neptune and Orcelle awards are worth $100,000 each, and the Broward College Innovation award for students is worth $10,000. Entries to the Neptune and Orcelle Awards – the latter of which is sponsored by Wallenius Wilhelmsen – are up 29% compared to 2018.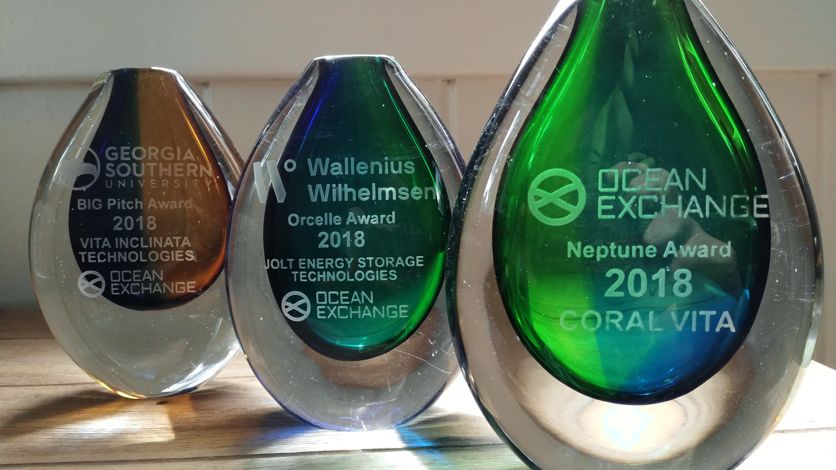 The 2019 Neptune and Orcelle awards are worth $100,000 each, and the Broward College Innovation award for students is worth $10,000.
The judges had their work cut out to whittle down 135 entries to 12 finalists – the ultimate winner will be selected by the delegates attending the Ocean Exchange event at the end of October.
'Holy grail' solutions make both environmental and economic sense
Previous Orcelle Award winners include Jolt Energy Storage Technologies, developers of a flow battery system with the potential to power vessels while at berth, and Atlas Energy, who scooped the prize in 2017. The Atlas team developed a nuclear battery technology that promises to eventually be able to deliver ship-sized power output for years without recharging.

Innovations like these have the potential to be game changers when it comes to improving the environmental performance of shipping, says Wallenius Wilhelmsen's head of sustainability Roger Strevens.

Strevens, who sits on the judging panel, cites Eco Subsea, 2013 Orcelle Award winners, as an example. Since winning, the company has successfully developed its solution into a service for cleaning vessel hulls during routine port calls in an environmentally responsible and safe way. The system, which doesn't require divers and brushes, is in operation at the port of Southampton, UK, where it is accessible to virtually all of the Wallenius Wilhelmsen fleet.
"Organisms like barnacles or sea grass can grow on the hull of a vessel and create drag," Strevens explains. "They can have a huge effect on fuel consumption, increasing not only emissions to air of all types, but also operator costs. As well as cleaning the hull to reduce drag, the Eco Subsea system also helps prevent the spread of invasive species."
This award-winning technology hits a sweet spot, Strevens says, because it offers both environmental and cost benefits. "The holy grail is a solution that makes both environmental and economic sense."
The holy grail is a solution that makes both environmental and economic sense.

Head of sustainability, Wallenius Wilhelmsen
Does it have impact? Is it innovative? Can it be executed?
Orcelle Award entries are assessed against three straightforward criteria: impact, innovation and executability.

The impact criterion assesses how extensive an effect the solution could have. A technology that has global applicability for reducing greenhouse gas emissions is likely to be favoured over a local solution, for example.

Under the heading of innovation, award candidates are judged on whether the idea is a 'better mousetrap' – just an incremental improvement – or something genuinely new.

Finally, the likelihood of an innovation being successfully executed is also considered. "We ask whether the innovators have the requisite business acumen to ensure their idea fulfils its full potential," explains Strevens.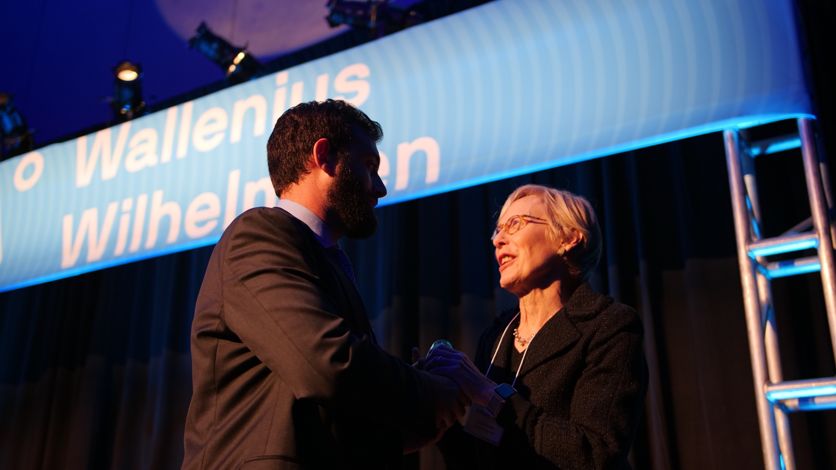 Millicent Pitts (right), CEO of Ocean Exchange
To be eligible for the Orcelle award, entries must contribute to any of the six UN Sustainable Development Goals that relate to Wallenius Wilhelmsen's business. They must help to meet the goals in a manner relevant to Wallenius Wilhelmsen.
This year's Orcelle Award finalists include technologies for wind power for maritime, novel ship foils for energy savings, and novel energy storage technologies. "We have a great cohort to choose from," says Pitts, "and we're very enthusiastic about the start-ups coming through."
Why the Orcelle Award must cast the net wide
As the profile of Ocean Exchange grows, so too do the number of entrants to its three award categories. The organisation is not taking anything for granted, though, and is casting its net ever wider to attract technologies from different sectors across the globe.

"We asked companies in other sectors whether their technologies could be used on a ship or at port," explains Pitts.

We've been able to push companies to think about other ways in which their technology could be used.

CEO, Ocean Exchange
The $100,000 prize money is a great incentive for entrants. As Pitts says: "We've had winners that have used the money to hire a development engineer at a crucial prototyping phase, or to prepare for listing on the Swedish Nasdaq. The funding can be critical at an early stage in a business's development."
Ocean Exchange will keep track of the hottest entries to this year's competition – not just the lucky winner. "Our mission is to advance the solutions, not to run an awards scheme," Pitts concludes. "The awards process is just the catalyst: ultimately, we hope to have a real impact on the environment."