Keeping business running: Our truck drivers at Keen Transport
Welcome to our article series in which we shine a spotlight on how different teams across our business are adapting to support your supply chain needs during these challenging times.
Keen Transport's truck drivers are on the frontline of our efforts to keep products moving for US customers during Covid-19. We caught up with driver Brandon Allen to find out more about a typical day on the road during the pandemic, and how he's been ensuring that deliveries of machinery continue to go as planned in North America.
Brandon, you're currently working all over the US. What is it like to be driving a truck during Covid-19?
We know as truck drivers that we have an important job to do. As this crisis unfolds, we're keeping America moving and building. That's especially true when it comes to the construction industry.
Against that backdrop, the health and safety of staff and customers is always our number one priority, so we've introduced social distancing and extra personal protective equipment at all the facilities Keen Transport operates.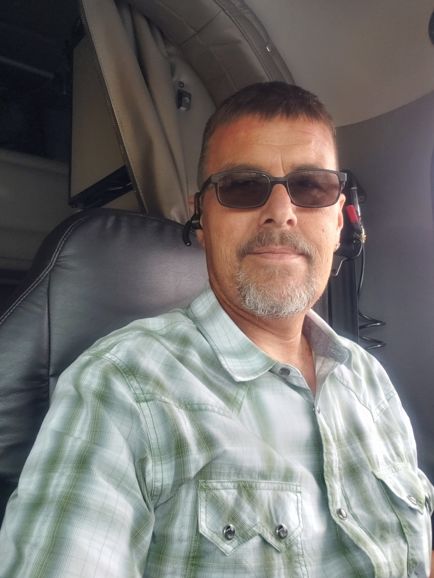 Brandon Allen has worked in the trucking industry since the late 1990s.
What changes have you seen at your customers as a result of the pandemic?
There are now distancing measures in place at manufacturers Keen Transport serves. These include dots on the floor to allow spacings of six feet between workers, the introduction of hand sanitising stations, and a reduction in paperwork for truck drivers, with as much administration as possible now carried out digitally.

As drivers, we're keeping customers' products moving. You see signs at the roadside thanking truckers, so it's great to get some recognition.
How are you ensuring deliveries are made on time?
There are places with curfews where oversize trucks can't enter from 6.30am to 9am, or from 4pm to 7pm depending on the city, to ease congestion, so careful planning is important. Getting into metropolitan areas such as New York, Chicago and Los Angeles during rush hour can be a challenge.

Time is of the essence for a Keen truck driver. In the US, by law trucks carry an electronic log that tracks hours driving. Reach more than 11 hours on the road, and you have to stop until the next day.
Tell us a bit about your experience.
I've been a driver for Keen since 2013 and working in the industry since the late 1990s. I have many years' experience of transporting oversize loads around the US, venturing out from home [Charlotte, North Carolina] for up to three months at a time. Over the years, I've hauled everything from military equipment to parts of oil and gas rigs and diesel engines for emergency generators.
During the last few months, many of us have got used to working remotely, but how do you cope on a long stint on the road?
Long periods of driving are eased by the creature comforts in the cab of my truck. I have a 63" deep bunk for sleeping, refrigerator, microwave, toaster and even a coffee maker. There's entertainment in the form of a DVD player, too.

It's not something that would suit everyone. It's a minimalist way of living, and it's definitely not a job for a social butterfly! But from an early age, I was fascinated by US TV shows featuring trucks, so I've fulfilled my dream. This was all I've ever wanted to do.
What's your favourite part of the US to drive through?
I always enjoy going west of the Mississippi River and out into the expanses of North and South Dakota, Montana, Wyoming and the Rocky Mountains.

Everything west of the river is just different. It's absolutely beautiful and you realise how small we are – the scale of creation.