Integrated supply chain solutions: 4 reasons why you need them
With a global network of ocean and inland transportation, marine terminals and equipment processing centres, our integrated supply chain solutions can help OEMs in the mining, construction and agricultural sectors to optimise their outbound logistics by reducing lead times and costs.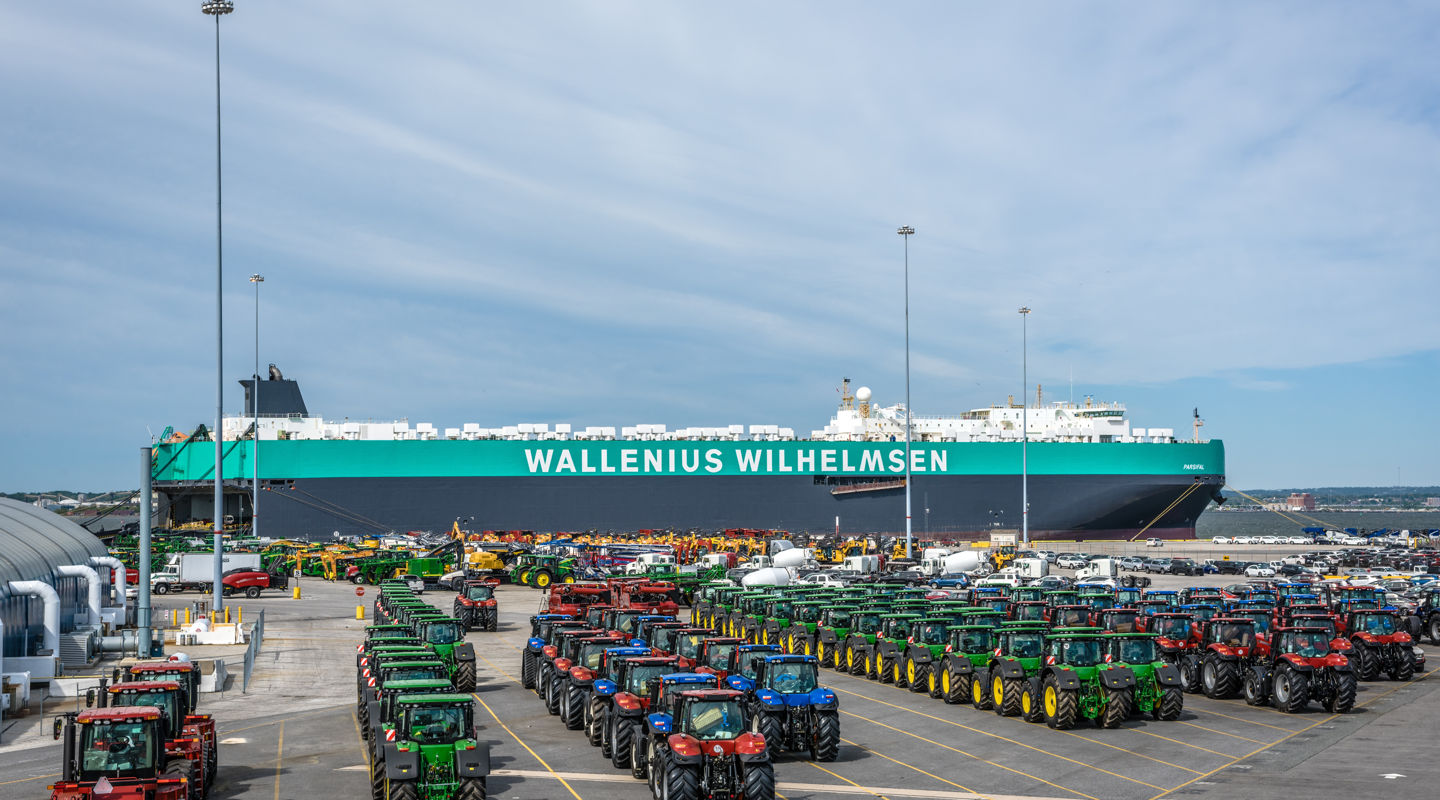 From seasonal spikes in demand to the sheer size and complexity of the machinery involved, manufacturers in the construction, agricultural and mining industries require reliability, flexibility and real-time visibility across the supply chain.

For OEMs looking to optimise their outbound logistics and get their products to market on time and on budget, using one logistics provider can offer cost-effective, efficient and sustainable solutions.

"Wallenius Wilhelmsen's extensive network can help save time and improve efficiencies for OEMs and their dealers," explains Richard Heintzelman, vice president of sales, high and heavy, North America. "Our full range of integrated supply chain solutions – from ocean and terminal services to equipment processing and inland transportation – can determine a product's most optimised path to the marketplace."
1. Reliable ocean network and terminal services to meet your deadlines
With seasonal demand and on-site project timelines to contend with, finding the most efficient route to market is crucial for machinery OEMs.

Long transit times can incur costly delays, but with our global network, high-frequency liner service and fleet of 50 versatile RoRo vessels, complemented by the wider enterprise fleet, OEMs are afforded flexibility and reliability.

As an important link in the supply chain, our terminals can act as safe and convenient hubs to handle, store and distribute products. As well as cargo receipt and dispatch services and documentation preparation, our full range of terminal services includes outdoor and indoor storage, fumigation and heat treatment, surveying, and packaging and consolidating, all of which can optimise the movement of products to their final destination.
2. State-of-the-art processing centres ensure equipment is market ready
For machines that require processing and technical services, our equipment processing centres, located at or near to key ports or in-plant at OEM's factories are fully equipped to fine-tune products and ensure all machinery is delivered in dealer-ready condition. From modifying and assembling machines to specifications that a dealer or end customer might require to repairs and rectifications, our skilled technicians are familiar working with all types of construction, mining and agricultural products.

"Specific customisation requests can mean delays in delivering finished machinery to end dealers, but our equipment processing centres offer an extension of our customers' in-house expertise," says Nick Bryan, vice president of sales for France, Benelux and Southern Europe.

On-port EPCs offer immediate storage and processing services, such as pre-delivery inspections, washing and accessorisation, while more complex assembly and customisation work and larger storage requirements can be met at our off-port EPCs. This means OEMs can not only maintain a stable inventory but be agile and respond quickly to reduce lead times and costs by scaling processing up or down depending on seasonal demand and project schedules.

"For many OEMs in the construction, agricultural and mining industries the current focus is on getting spare parts to factories so they can build out their machines, avoid production disruptions and meet their customer's deadlines," adds Heintzelman. "Not only does the frequency and reliability of our RoRo services ensure that these machines can be delivered on time, the fact that our processing facilities have the infrastructure and expertise to carry out complex customisation and assembly work typically done on the factory floor, can also result in time and cost savings."
3. Real-time visibility means quicker decision-making
Having one logistics provider to handle all transportation, processing and storage needs can undoubtedly offer cost and time efficiencies, but to fully optimise supply chains, OEMs also need visibility to react faster and make quicker decisions.

"By introducing more integrated systems linking all of our services, both rolling equipment OEMs and their end customers are afforded greater visibility throughout the supply chain," says Bryan. "From units arriving on our vessels to moving through our terminals, into our EPCs and eventually to their final destination on our trucks, they will have a real-time view of the entire journey."

Currently our iToms operating system gives a real-time view of product flow at our terminals, but other integrated systems incorporating information from across the supply chain are also in the pipeline. "The next critical component of our offering is an integrated operating system, enabling full transparency throughout product movement," explains Heintzelman. "This will allow customers to access their data via one system, offering convenience and peace of mind while allowing us to raise our game even higher as a comprehensive service provider for rolling equipment OEMs."

4. Inland transportation network reduces time to market
Our extensive inland transportation network, complemented by those of our trusted suppliers and partners, also ensures products are headed on the fastest route to market.

In the important machinery market of the US, our inland distribution network – operated by Keen Transport – helps to avoid costly bottlenecks in the supply chain by joining up our ocean transportation and processing services. As well as a diverse fleet of tractors and trailers to provide customised solutions for all types of construction, mining and agricultural equipment, we also offer turnkey rigging solutions for extremely oversized machinery and components with customised trailer and axel configurations to ensure all products are handled as safely and efficiently as possible.

Reducing time to market can also have a positive impact on carbon emissions, not only during the inland transportation leg of a product's journey, but throughout the whole supply chain.

"We're building a more robust carbon compass to assist our customers to capture the carbon output across various modes of transportation," adds Heintzelman. "We pride ourselves on being aspirational as we explore the practical deployment potential of our wind-powered vessel Orcelle Wind, the use of electric vehicles in our transportation and terminal operations and how we implement data in the operation of our vessels. All of these efforts are just the beginning of greater, more meaningful sustainability collaboration with our customers going forward."