How RoRo supports stable supply chains for renewable energy
With demand for renewable energy showing little sign of slowing down despite the global pandemic, a stable supply chain is crucial for manufacturers and forwarders shipping renewable energy products. But what logistics challenges does this resilient sector face and how can a regular RoRo liner service help support supply chains for renewable energy?
A positive outlook for the renewable energy industry
The renewables industry has adapted swiftly to the challenges posed by Covid-19. According to the International Energy Agency (IEA), the renewable energy markets have already shown their resilience to the crisis and although affected by it, the pandemic has neither halted renewable energy deployment nor global renewable energy growth.
While safety regulations and mobility restrictions did disrupt supply chains for renewable energy and slowed the progress of installations – particularly onshore wind and solar photovoltaics – in the first six months of 2020, the sector is very much back on track.
Renewables-based construction, equipment supplies, policy implementation and financing have now returned to near normal levels in many countries, in part because operators and manufacturers have been quick to adapt to the 'new normal' and introduce social distancing measures.
This resilience is being spearheaded by the electricity sector. As IEA's Renewables 2020 forecast suggests, in comparison to other fuels, renewables used for generating electricity grew by almost 7% in 2020 despite global energy demand declining by 5%. China and the US are leading the way; wind and solar additions from both nations were projected to rise by 30% in 2020.
As a result, renewable capacity additions are on course for a record expansion of almost 10% – the fastest growth since 2015.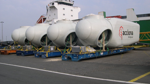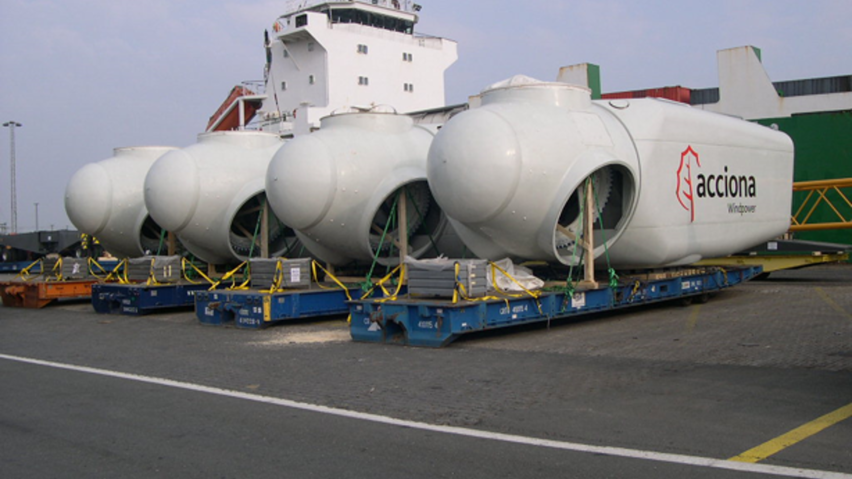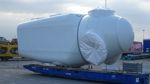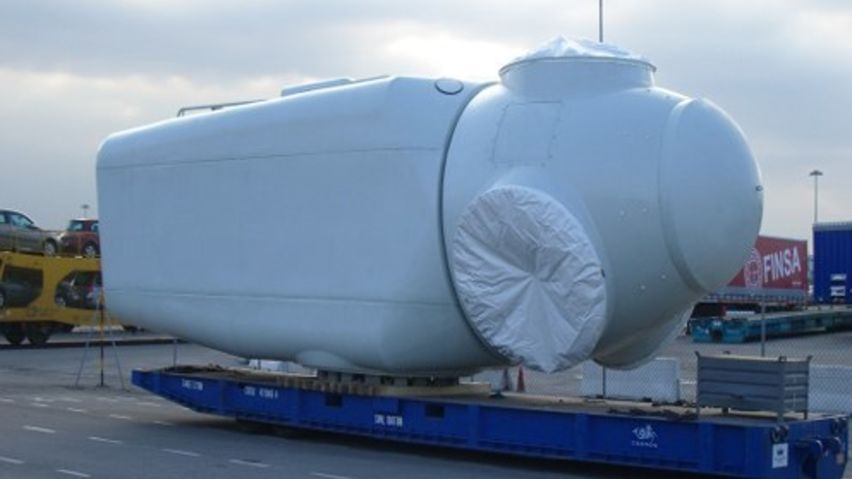 RoRo ensures supply chain predictability with fixed and frequent sailings
As the demand for renewable energy continues to rise, OEMs and freight forwarders supplying the sector require frequent and reliable ocean transportation services to meet tight project deadlines and ensure regular volume supply. Without a regular supply of equipment and components to on- and offshore renewable energy plants around the world, bottlenecks in the supply chain can quickly arise and ultimately installations simply grind to a halt

Our RoRo network operates globally to a scheduled timetable that is ideally suited to meet these demands, with regular and reliable sailings in key global trades, including to and from the major renewable energy markets of the US, China and Europe, delivering high schedule integrity.

A frequent RoRo liner service helps deliver evenly spread cargo flows and ensures increased control and predictability in the supply chain, giving manufacturers, forwarders and plant operators the agility to adapt quickly to changes in on-site construction timetables. Fixed schedules also help to mitigate delays and their impact and reduce other associated costs, such as storage, penalties and insurance.
RoRo is the safest way of shipping renewable energy products
One of the challenges of supplying the renewable energy sector is the sheer scale of the equipment and components involved. Around the globe, wind and solar energy farms are growing in size – it's not unheard of for turbines to weigh almost 1,000 tonnes and have a rotor diameter of more than 200 metres.

The size of offshore wind components in particular is outpacing the infrastructure investments needed to support safe transportation at each point of the supply chain for renewable energy. For manufacturers and forwarders, dismantled transportation is one option, but whether dismantled or not, these complex and costly renewable energy components need to be carefully handled and transported to prevent damage.

With RoRo, the use of specialised handling equipment minimises lifting for safer handling, with products rolled on and off the vessel. From transformers, generators, and various wind energy components to subsea cable drums that connect offshore wind farms to the onshore energy grid, our wheeled handling equipment is designed to handle the most oversized of components. Our Samson heavy lift trailer for example can handle products up to 220 tonnes in weight, with weight capacity rising to 400 tonnes with the use of blocks and beams and jack-up trailers.

For the most sensitive cargoes, our team of breakbulk specialists use their technical expertise to devise bespoke handling and engineering solutions.

Once onboard, underdeck stowage provides extra protection for renewable energy products and ensures they are kept safe from the environment.
RoRo can support the growing onshore/ offshore wind market
There was a surge in the wind power market in 2020, the latest sign of renewable energy's rising demand. According to the IEA, annual net wind capacity additions were expected to reach 65GW in 2020, that's 8% more than in 2019. For 2021, forecasters predict further growth, with capacity additions of 68GW (7.3GW offshore) as delayed onshore projects in Europe and the US become operational.

In the offshore wind sector, the Covid-19 crisis did not delay deals in Europe, the largest market. Developers in the Netherlands, the United Kingdom and France signed off almost 5GW of new offshore wind capacity. In the US, onshore wind additions jumped by over 30%, while the offshore wind market continues to grow, with more than 5GW of power due to become operational during 2023-25 thanks to projects in New Jersey, New York, Massachusetts and Rhode Island.

With new on-shore and off-shore wind projects in the pipeline for both the US and Europe as well as Australia, our large fleet of RoRo vessels can cater for the capacity and service level needed in these trade routes to support the expected growth.
Is the renewable sector resilient to policy uncertainties?
Looking ahead, there are some concerns that global renewable additions are set to decline due to the phase-out of certain incentives in key markets such as China and the US where production tax credits for onshore wind expire in 2022.
However, Vedran Muratbegovic, VP of global industrial account development at Wallenius Wilhelmsen believes there is still reason to be optimistic. "The financing of wind energy projects has traditionally had high levels of reliance on government funding/subsidies (i.e. the U.S. Federal Government's Production Tax Credit funding mechanism, known as PTC). As the segment matures and exponential growth trajectory continues, so too do financing mechanisms. Although government funding through subsidies remains one option of financing wind energy projects, other funding options are fast developing to include other ways of sponsorship. Subsidy free projects are appearing and that is a positive development for the industry's future," he explains.

Overall, the current outlook is certainly positive. In the first half of 2020, 13 countries awarded almost 50GW of new renewable capacity to become operational during 2021-24, the highest amount ever – a sign that the pandemic has done little to dent renewable energy expansion. In fact, renewables are set to account for 95% of the net increase in global power capacity through to 2025.

And while no one can predict exactly what the renewables landscape will look like in the years to come, one thing is certain: for manufacturers, forwarders and operators supplying this resilient sector, a reliable RoRo liner service ensures supply chain predictability to meet growing demand, whatever the future holds.
Sources: Renewables 2020 report, International Energy Agency (IEA)