How integrated logistics can improve your supply chain in South Korea
Are you importing or exporting breakbulk to and from South Korea? Discover the benefits of our integrated logistics services.
Ensuring products arrive safely and on schedule is a priority for all our customers, but supply chain complexities can mean a lack of reliable solutions, explains Dae Bum Lim, senior manager of logistics and sales, Wallenius Wilhelmsen Korea.

Support from a single logistics partner offering multiple services across the outbound supply chain can offer the predictability, quality and convenience OEMs need to keep their supply chains running smoothly and support the timely and safe delivery of their products.

Our integrated logistics services for breakbulk are among the first of their kind in South Korea. Extending beyond shipping, the scope of services we offer includes inland transportation via truck and barge, and value added terminal services such as customs clearance, storage and terminal handling.

Taking advantage of our global logistics network, breakbulk OEMs and forwarders importing and exporting to and from the country, can therefore benefit from end-to-end solutions from factory to the final destination.

"Having acquired a forwarding license in August 2021, our extended service offers hassle-free solutions for breakbulk manufacturers who no longer have to worry about arranging trucking and shipping for their products separately," adds Lim.

Having one logistics provider means timely delivery
Having one point of contact across the supply chain enables customers to better keep track of their products, which can support timely delivery .

"Our customers' pain points revolve around delivering products on time without incurring damages or unnecessary costs," say Lim. "Customer requirements can change and challenges may arise, but we work proactively to anticipate any issues that might occur and find innovative, flexible solutions to help meet their needs for safe and timely delivery.

"Meanwhile, our regular RoRo liner service and large fleet of handling equipment combined with our technical expertise offers greater schedule certainty for customers as well as the reassurance that their products will arrive in the expected condition," adds Lim.
See how we handle breakbulk products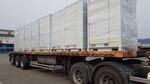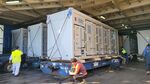 A connected network helps to support growing breakbulk sectors
Our integrated services are poised to support rapidly growing sectors, such as the EV battery industry. With EV sales continuing to accelerate, lithium-ion battery production is scaling up, both in Asia, where 70% of batteries are currently made – and across Europe and North America where new gigafactories rely on specialist machinery and parts, many of which come from South Korea.

Access to a connected logistics network can therefore help these OEMs to meet production schedules in their key overseas markets.

"This fast-growing industry needs end-to end logistics solutions from the Korean factories to both existing and new factories overseas," confirms Lim.

For the aviation sector, Lim notes that integrated services from ocean and inland transportation to customs clearance and storage also ensures a more reliable supply chain to support rising demand.

"We are the only RoRo carrier and logistics provider who can offer integrated logistics solutions for breakbulk in South Korea," says Lim. "Since launching end-to end services, we're seeing growing numbers of breakbulk customers choosing to deliver their products with us thanks to the predictability and quality we can offer in their supply chain."
Our integrated logistics service offering in South Korea
Global RoRo liner service
Inland transportation
Terminal handling
Customs clearance
Long-term storage
Barge transportation