Global forwarder Fracht relies on RoRo to meet its customers' needs
Price increases, capacity shortages and port congestion mean global supply chains are under strain, putting pressure on freight forwarders to deliver stable solutions for their customers. We spoke to the head of global development at Fracht about the current market and how RoRo is helping them navigate these turbulent waters.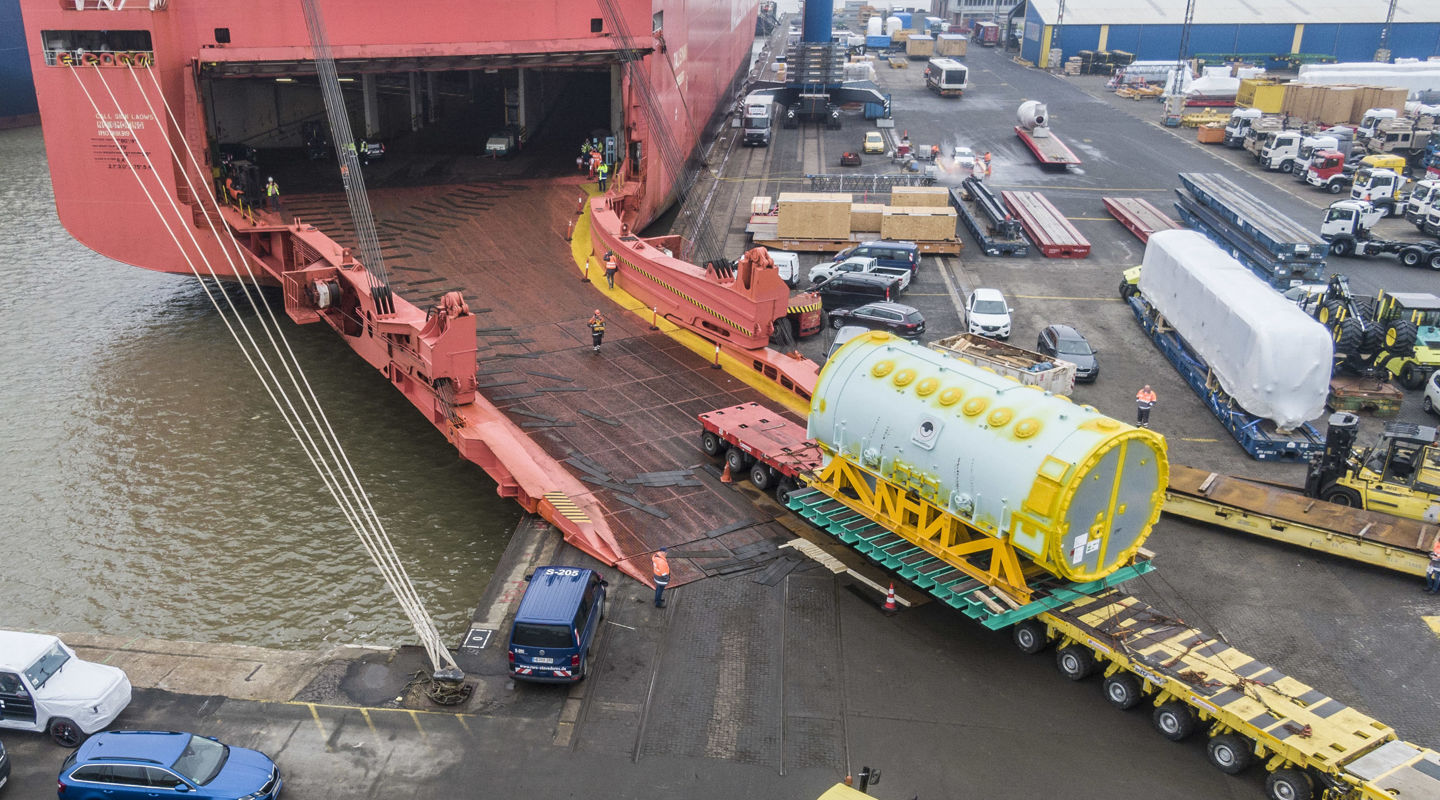 While Covid has changed many things, one thing remains the same – customers still expect the timely and safe delivery of their products to keep business running. But, with more demand than capacity, cost and space are proving to be a bigger stumbling block for forwarders and their customers than ever before.

"In my 30 years in the industry, I have never seen a situation like this," says Dominik Keller, head of global development at Fracht, which serves a diverse portfolio of customers, including those in the energy industry and machinery market, who rely on the timely delivery of cargo to meet project deadlines.

"Our customers ultimately look for the same thing from us as we look for in an ocean carrier – reliability, flexibility, capability, thinking outside of the box and, of course, competitive pricing," says Keller. This means finding stable ocean transportation is a top priority for Fracht.
Reliable service in an unstable market
With major congestion at ports around the world, particularly along the Asia to Europe trade and at ports in the US, Keller notes that finding space in a congested market is arguably one of the biggest pain points for forwarders.

Not only is there a risk of cargo delays, but if vessels can't find a berth, detention costs can rack up quickly. While RoRo is not immune to the current challenges that exist in the market, its regular liner service and fixed schedule means it offers greater guarantees of meeting customers' needs, says Keller: "RoRo offers a reliable alternative to getting customers' products to their end destination on time and within budget.

"Access to a bigger network of ports is crucial in easing time constraints and costs, which is why shipping on carriers that call at ports more or less exclusively for RoRo vessels offers advantages," he adds. "Preference at ports makes it easier to find a berth, which minimises the risk of delays and detention time, in turn keeping costs stable for us and our end customers."
Safe handling capabilities are crucial
Reliable and frequent services aside, safe handling of products is equally important for Fracht. "We handle a lot of high-value project cargo for the renewable energy sector as well as rail products like metro cars, locomotives and trams. Given the sheer size of these products, a high level of expertise and knowledge is key to safe handling," says Keller. "Careful analysis of the technical requirements and logistics of loading, particularly heavy lift equipment with its oversized dimensions, is critical in the safe shipment of these products."

With RoRo's handling equipment solutions the need for lifting is reduced, helping to minimise the risk of damage to cargo not only during loading, but also during the sea voyage. Products are rolled onboard the vessel secured to specialised handling equipment, which is lashed to the vessel deck for the entire journey.
Our customers ultimately look for the same thing from us as we look for in an ocean carrier – reliability, flexibility, capability, thinking outside of the box and, of course, competitive pricing

Head of global development, Fracht
Supporting customers sustainability goals
Despite the myriad challenges in the market, sustainability remains a priority for customers, notes Keller.

"There is a lot of interest from big companies around sustainable logistics solutions. Depending on the industry, some accreditations like Ecovadis are already required, especially in the chemical sector, " says Keller.

As a forwarder, Fracht is doing its part in supporting its customers' sustainability goals by calculating their CO2 emissions and looking for partnerships that can help deliver more sustainable supply chain solutions.

"Right now the costs of sustainable logistics solutions are high, but I see this changing in the future as pressure from governments around the world grows."
A flexible approach in an ever-changing market
In the current market environment, a forwarder's role is much more work intensive than before and there is an even greater need for flexibility. Meticulous planning and an agile approach to problem-solving are crucial in helping to minimise disruptions for customers.

"Pre-planning and communication at the beginning of a project is essential to avoid constraints and ensure on-time delivery of project cargo," says Keller. "While the arrival of new tonnage will ease pressure in the market, the situation will likely remain the same as we enter 2022 and, while prices will stabilise, they are unlikely to ever return to what they were before Covid."

As for the future beyond 2022? If the current challenges have taught us anything, it's the vulnerabilities of global supply chains, which is why there is a shift to more local sourcing. "The problems we're facing, particularly with imports from China to Europe, is creating fundamental changes in people's purchasing behaviours. Globalisation is changing and we're seeing a shift to 'localisation'," he says.

For forwarders this means adapting to customer's ever-changing requirements, which will require the support of logistics partners with global reach, experience in local markets and innovative solutions.