Global economy and machinery outlook for 2021
Even before Covid-19, momentum was slowing in the mining, construction and agricultural machinery markets. Robert Berg, market intelligence manager at Wallenius Wilhelmsen, explains what 2021 has in store for these industries as demand, and the global economy, gradually recover.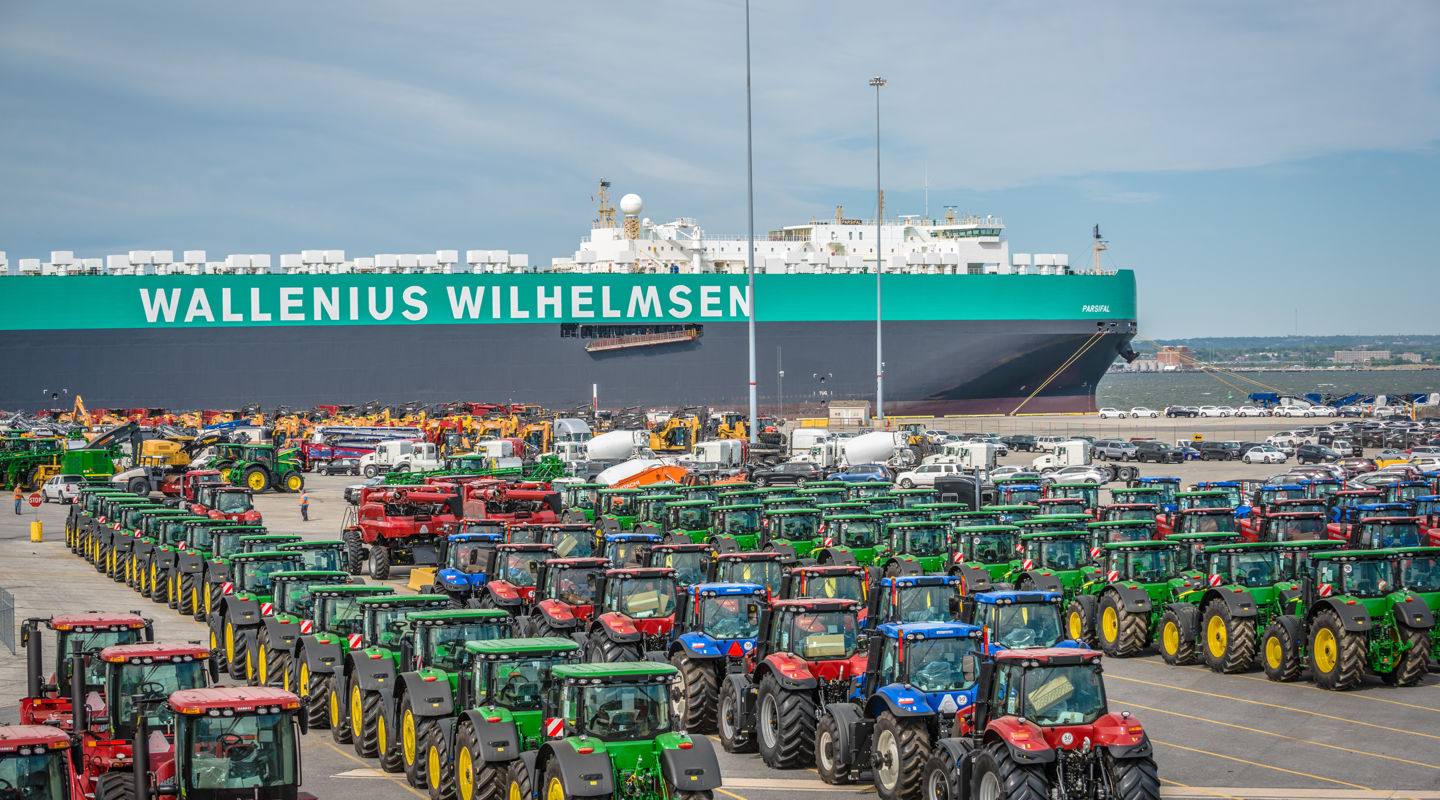 The Covid-19 pandemic struck a devastating blow to an already-fragile global economy. Economic growth came to an abrupt halt, and while recent data suggests that the contraction will be slightly less dramatic than initially projected, we are still in the midst of one of the worst economic slumps on record.

The October outlook from the International Monetary Fund upgraded global growth expectations to −4.4% in 2020 – followed by a 5.2% gain next year as social distancing fades with vaccine coverage. After the rebound in 2021, the expansion is expected to gradually slow to about 3.5% in the medium term. Crucially, this is less than the economic activity projected before the pandemic.
The ascent will likely be long, uneven, and uncertain.
While projections always come with inevitable uncertainties, the widespread roll-out of vaccines will determine the speed of economic recovery.
A two-speed economic rebound
If we consider the agriculture, construction and mining industries, the path ahead will rely on recovery in the wider economy. But recent months have produced continued evidence of a two-speed rebound at play. The service sector, especially consumer-facing and hospitality businesses, remained widely anaemic in its recovery even before the second wave of the virus. Manufacturing activity, on the other hand, displayed a more vital rebound since new factory protocols were implemented and critical supply chain hiccups addressed.

Expanding manufacturing activity has also fuelled a continued strengthening of goods trade. New export orders for the Purchasing Managers' Index for manufacturing signalled growth for the first time since 2018 in September – and continued to do so in both October and November this year. But while total shipping volumes now exceed pre-pandemic levels due to a strong Chinese comeback, there is still some way to go for shipping of mining, agricultural and construction equipment. Machinery exports have been on a steady climb from June but were still nearly 15% down from last year in the three-month period ending in August.
Push and pull in the value chain
Globally, the supply chain has broadly recovered, but production disruptions and the uncertainty of recent months are evident in inventories. Anecdotal evidence and hard data alike point to tightening inventories across segments and geographies.

But while tightening inventories may encourage demand in the near-term, prospects in end user markets vary across the machinery segments:
Agriculture machinery
Markets for agriculture machinery have staged a very solid Covid-comeback in many parts of the world. Prices of many commodities have rallied despite the inevitable collapse in HORECA1 demand, lifting sentiment well into positive territory on both sides of the Atlantic. Improving farm finances are expected to translate into strengthened demand and equipment sales in the time ahead.

Market consensus2 currently forecasts a relatively modest 5% reduction in machinery sales this year, which represents a significant step-up from the 13% contraction forecasted just six months ago. Gains of 6-8% per annum are then expected in the next couple of years, with revenues surpassing pre-pandemic levels in 2021.

Mining machinery

Metals and non-energy minerals have experienced strong price rises in the year-to-date, led by buoyant iron ore demand and investors turning to the safety of gold. With the notable exception of iron ore prices, markets expect the climb to extend into next year. Crucially, miners across mineral groups are forecasted to see their earnings rise above long-term averages in the years ahead.

This year will be an inevitable soft patch for miner capex, but delayed projects and improving profitability are expected to boost investments among the mining behemoths by around 10% next year. This is forecast to translate into machinery upgrades, with consensus2 putting machinery sales growth at 8-9% per annum in the next two years. Still, this recovery does not fully recoup the market losses experienced this year, leaving total machinery sales for 2020-22 roughly 10% below the pre-pandemic baseline.

Construction machinery

The plunge in construction activity was short-lived in most of the Western hemisphere, and equipment markets are on a slow but steady climb from the trough. But where agriculture and mining machinery markets find support in commodity prices, the picture is more complex for construction machinery.

Backlogs of projects have helped support activity levels during the crisis, but changing dynamics await in commercial and office construction. From online shopping to remote working, the pandemic has compressed years' worth of digital transformation into months. On the positive side, massive stimulus packages are at different stages of maturity. These all have the potential to boost construction activity and equipment demand, in particular related to large infrastructure programmes.

Construction machinery manufacturers are also facing a tale of two worlds from a geographical perspective. On one hand there's the Chinese market, where demand bounced back after Covid-19 almost before it disappeared. Targeted funding efforts by authorities quickly reinvigorated sales, and industry advisor Off-Highway Research (OHR) currently expects a 14% expansion this year. This will take the market to a nine-year high, followed by a compounded annual growth of -14% in 2021-23 as the market resets.

Looking outside China, the picture is almost the exact opposite. The combined markets of Europe, North America and Japan are expected to shrink by almost a quarter in 2020 according to OHR. The road to recovery suggests growth of 9% in each of the next two years, albeit from low levels. While healthy in relative terms, that still leaves volumes 9% below 2019 levels at the end of the period.

Sources: International Monetary Fund, IHS Markit, World Bank, ING Group, Factset Data & Analytics, Wall Street Journal

1 Hotels, restaurants and cafes

2 Analyst consensus – Machinery manufacturer fiscal year revenue growth. Constituents: AGCO Corp., CNH Industrial N.V. and Deere & Co (agricultural machinery). Sandvik AB, Caterpillar Inc., Epiroc AB and Hitachi Construction Machinery Co. Ltd. (mining machinery). Volvo AB, Caterpillar Inc., Deere & Co., CNH Industrial N.V., Komatsu Ltd., Hitachi Construction Machinery Co. Ltd., Terex Corp., Doosan Infracore Co. Ltd.