Supporting an efficient electric vehicle supply chain for Chinese EV industry
Using one provider for both ocean transportation and vehicle processing ensures a faster, more efficient electric vehicle supply chain for Chinese EV manufacturers exporting to Europe.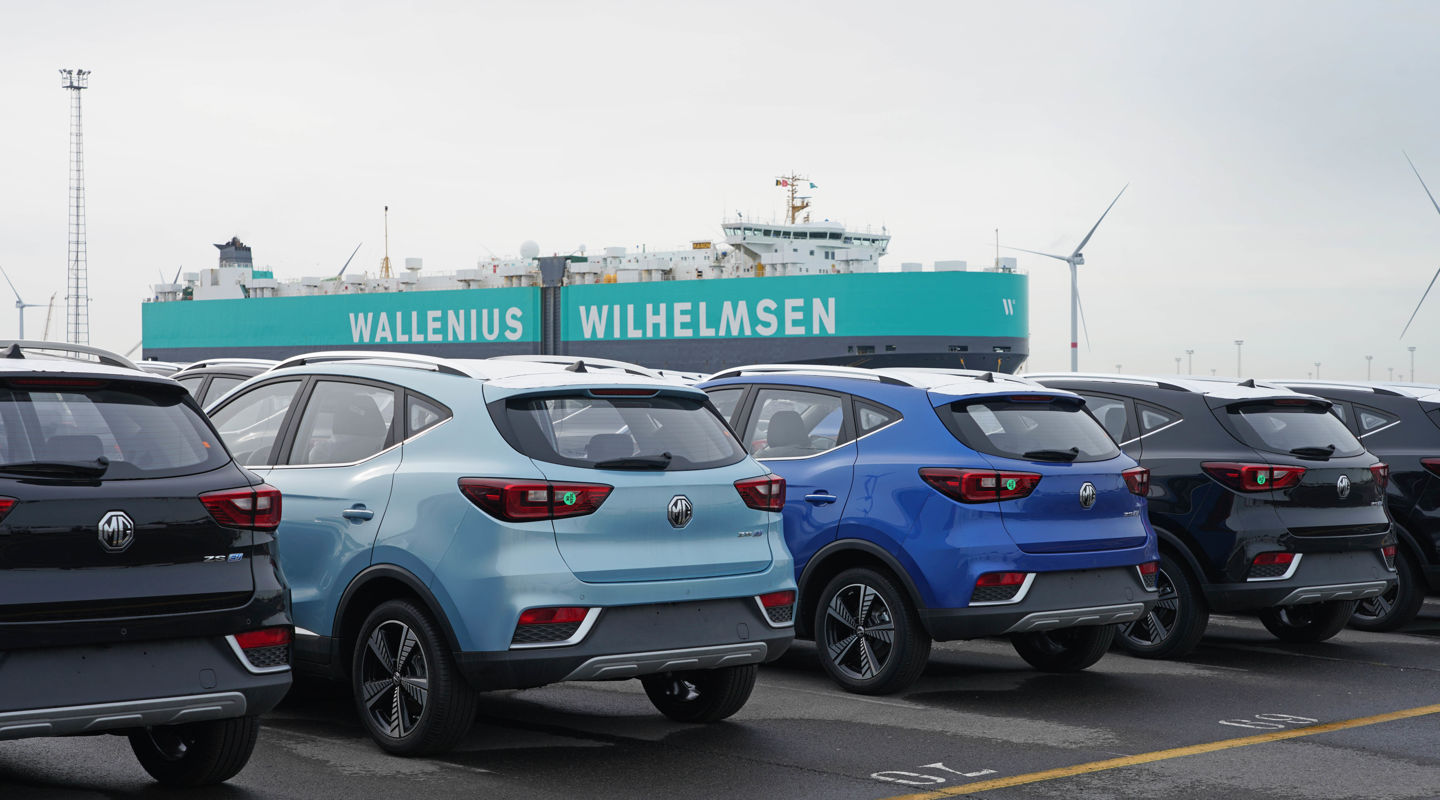 China is a world leader in the development and manufacture of electric vehicles and with European demand growing, Chinese EV manufacturers are poised to capitalise on market growth. Looking to gain a foothold in Europe, many are scaling up their export operations, which involves complex logistics and electric vehicle supply chains.

As well as regular liner services and high-quality cargo handling, state-of-the-art infrastructure such as charging stations is required at terminals and vehicles must be processed before end delivery.

Like many others, SAIC, China's largest automotive manufacturer, needed a skilled logistics partner to help handle its electric vehicle supply chain. This was essential to ensure it could launch successfully in Europe, and meet its ambitious sales targets across the EU and UK.
Seamless support across the EV supply chain
With a strong track record of handling EVs, robust ocean transportation, specially designed infrastructure at key terminals and extended pre-delivery inspection and yard management services, Wallenius Wilhelmsen offers the support SAIC needs to strengthen its presence in the European market.

"We handle the largest portion of EVs to the outbound market, from passenger vehicles to commercial vans and buses," explains Simon Chen, sales manager, WW Ocean, China. "Our rich experience as well as our strong local operation helps us to deliver service reliability, operational excellence and seamless coverage across the supply chain for Chinese automotive customers," he adds.

SAIC found WW Ocean's schedules particularly attractive. "With three direct sailings from Lianyungang and Shanghai to Europe and a transit time of 40-45 days, WW Ocean offers us a reliable service and timely delivery of our vehicles," says Lawrence Xie, senior manager, purchasing department, SAIC China.

Access to Lianyungang, one of the 10 largest ports in China and close to the company's Zhengzhou factory, which manufactures over 100,000 vehicles annually, is an added advantage, helping SAIC reduce its lead times and costs.
State-of-the-art processing facilities at Zeebrugge
In addition to ocean transportation from China to Europe, SAIC is also supported by the skilled team at our Zeebrugge terminal, the primary hub for all SAIC vehicle exports from China to Europe, and well-equipped to handle EVs.

"Our processing centre at Zeebrugge is a perfect entry for the European market and our team has vast experience in handling the import of EVs," says Nils Lie, business development, automotive Europe, WW Solutions.

Zeebrugge is also an important transhipment and distribution hub, with an excellent network of short-sea vessels to complete the final leg to markets across Europe, as well as onward rail and truck transport to mainland European countries.

The vehicle processing centre (VPC), which features an automated car wash, repair preparation zones, paint booth, parts warehouse and a modification hall, has sufficient charging capacity to handle large batches of electric vehicles at short notice.

"Our VPC is able to handle cars which may have battery problems or non starters, and can monitor the state-of-charge while in storage. Our software includes daily automated reporting and sends alerts to ensure units in storage receive maintenance as and when required," says Lie.

Other services include software updates and dedicated PDI services, including instruction manuals for the respective markets.

"With our export volumes to Europe set to grow over the next few years, Wallenius Wilhelmsen's frequent liner service, high-quality cargo handling and competence in processing services provide us with excellent support across our EV supply chain," says Xie.
SAIC Motor
The largest automotive company in China, SAIC Motor accounted for almost a quarter of car sales in China in 2018. SAIC MG has five plants with over 200 000 vehicles exported annually. The EU is SAIC's most important overseas market and sales of its MG EZS vehicles accounted for 10% of the UK's electric vehicle sales in the first quarter of 2020. The company has plans to export up to 100,000 MG EZS vehicles annually to Europe by 2025.