Clever RoRo solution generates cost and time savings for gantry crane shipment
Earlier this year, Port Air Logistics in Melbourne worked with Wallenius Wilhelmsen Ocean to ship a large gantry crane overseas to Thailand. We spoke to the team in Australia to find out exactly how they did it.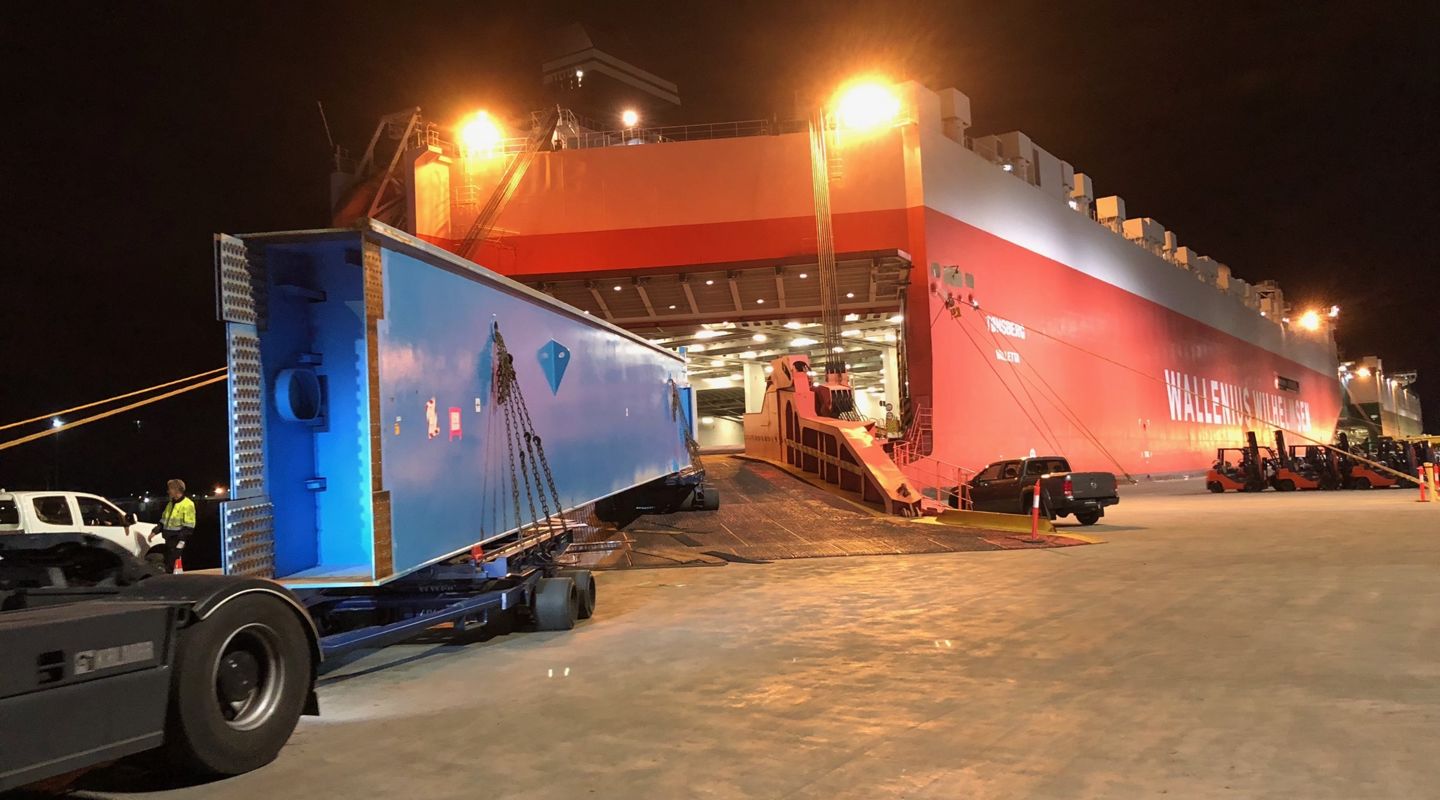 In August 2018, a 230-tonne gantry crane used to lay down rail bridges for the multi-billion-dollar Sky Rail project in Melbourne needed to be shipped to Thailand – where it was to be used for similar above-ground rail projects.
While Australian ports are renowned for their ability to import breakbulk cargo, prepping and exporting the crane for port-to-port transport involved an unusual set of challenges for freight forwarder Port Air Logistics, who worked with WW Ocean to find a solution.
The Port Air Logistics and WW Ocean teams needed to devise a plan that would allow them to pack and ship the 1,200m3 breakbulk project to South East Asia – and arrange a transshipment vessel from Singapore to Thailand along the way.
A unique set of challenges
The size of the crane made things logistically difficult – the Out of Gauge (OOG) pieces needed to be shipped as one parcel. There were other requirements too – underdeck stow was a prerequisite, as were regular fixed sailings out of Melbourne.
WW Ocean Port Captain Bilal Ma employed a tailored transportation solution by using a set of multi-purpose bogies (MPB), a WW Ocean-owned product, to move the 23-metre-long beams from their original location to the vessel and then off again once the vessel reached its final destination.
"In Melbourne, we're removing many level crossings and a lot of government construction projects are taking place," explains Angelo Gnanasigamony, Sales and Account Manager, Southern Area Australia, WW Ocean.
So there was no room for delays in the schedule. Port Air Logistics had to ensure that the crane was moved from its demobilisation location and loaded and delivered to its final destination in Thailand – all within a specific timeframe.
So why did Port Air Logistics decide to partner with WW Ocean? "It's their willingness to get their hands dirty," said Director Mick Parsons. "We have a long and mutually rewarding relationship; they're different from other ocean carriers. With WW Ocean, staff are always willing to examine cargo before moves commence. In this case, we had two visits from Bilal and Angelo at the demobilisation location to address any issues before the move commenced."
Thankfully, attention to detail and a speedy approach proved crucial – in the end, Port Air Logistics and WW Ocean managed to deliver under budget and ahead of schedule. The next logistical challenge for both teams is undoubtedly around the corner, and Angelo is already excited about seeing how they'll respond.