Chinese electric vehicle start-up arrives in Europe
Shanghai-based auto manufacturer makes its entrance into the European market by shipping 500 electric vehicles to the continent.
The electric vehicle market in Europe is gearing up for a new phase. According to Automotive News Europe, registrations of battery-electric cars increased 58 per cent in the first quarter of this year, despite overall sales of new passenger vehicles contracting in the same period due to Covid-19.

For Chinese EV manufacturers, Europe presents an exciting opportunity for growth. As a result, many Chinese automotive companies are turning to the reliability and safety offered by RoRo services.

This includes newcomer AIWAYS. The company plans to streamline the traditional car buying journey with a direct-to-customer sales model, meaning timely delivery and a regular service are paramount.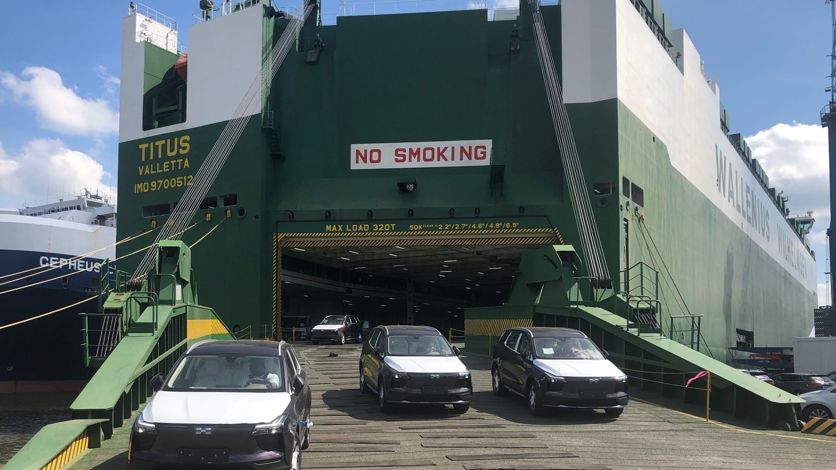 AIWAYS is not the only Chinese automotive manufacturer relying on RoRo.
In July, the first batch of 500 AIWAYS' all-electric SUVs arrived at the German port of Bremerhaven onboard WW Ocean vessel, MV Titus. The cars are destined for Corsica, where tourists on the French island are the first motorists in Europe to experience the U5 model, which are available to rent."
Having a robust supply chain in place is crucial," says Alexander Klose, executive VP of overseas operation at AIWAYS. "Europe is a key growth market for us and WW Ocean's competitive schedule means we benefit from the speed and agility to meet demand, while ensuring quality control remains high."
Leading exports of EVs from China
AIWAYS is not the only Chinese automotive manufacturer relying on RoRo. WW Ocean handles the largest number of EVs in the outbound market for SAIC, BYD and Polestar, including passenger cars, commercial vans and buses.

Three direct monthly sailings from China to multiple ports of entry in Europe mean WW Ocean customers can expect a reliable service and timely delivery, as well as strategic entry points into the European automotive supply chain network, explains Simon Chen, sales manger for WW Ocean.

"Our regular RoRo service keeps total transit time to 40-45 days on the water from China to the EU," Chen says.
Accelerating European demand for EVs
AIWAYS currently has the capacity to build 150,000 vehicles a year at its manufacturing facility in Shangrao, China. The U5 is the company's first model, and to demonstrate its suitability for the European market, last year AIWAYS embarked on a 15,022km, 53-day test drive along the old Silk Road linking Europe with Asia. The prototypes passed through more than a dozen European countries on the journey from the Chinese city of Xi'an to Frankfurt in Germany.

"We have been encouraged by recent moves from European leaders to invest in and grow the EV market," says Alexander Klose. "During our record-breaking EV prototype drive last year, we learnt that European car buyers are looking for more practical zero emission choices. We are proud to be part of this movement and increase access to EVs for consumers."
About AIWAYS
AIWAYS is on a mission to create a new travel lifestyle with smart technologies. Founded in Shanghai in 2017 by the former China sales chief of Volvo Cars, Fu Qiang, and SAIC Motor Corporation's former chief financial officer, Gu Feng, the company's first all-electric SUV is made at its smart, digitalised factory in Shangrao.