Alternative fuels for sustainable shipping: Wallenius Wilhelmsen trials biofuel
An increased focus on the environment globally and in the maritime sector is leading to more research into alternative fuels. At Wallenius Wilhelmsen we have carried out a trial on biofuel that may bring us one step closer to delivering more sustainable shipping solutions to our customers.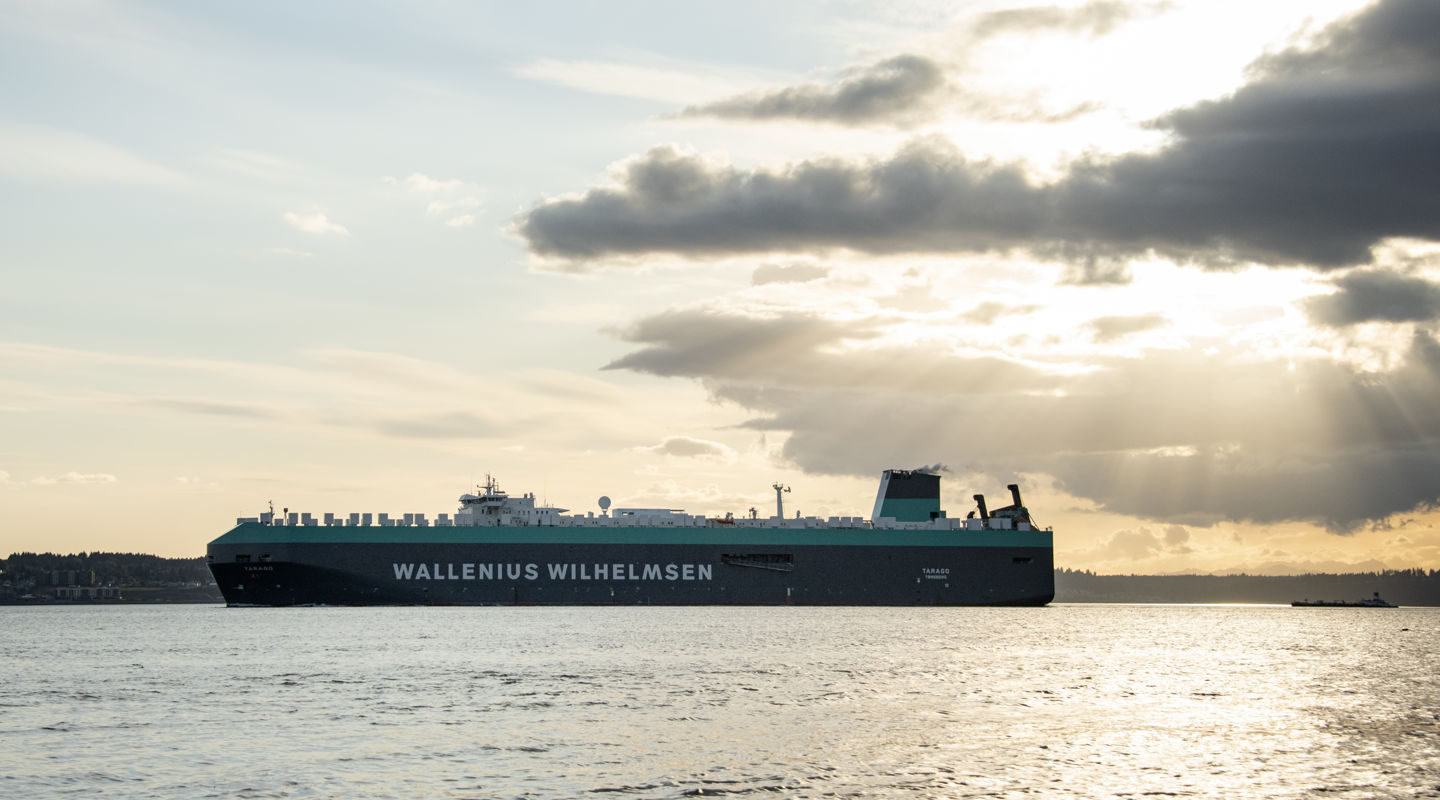 In an effort to improve our knowledge of biofuel and test its potential in deep-sea shipping, we recently carried out a trial on one of our vessels, as biofuel has the potential to reduce CO2 emissions by as much as a third compared to conventional marine fuels.

"An emission reduction of 30% is significant and therefore must be seriously explored," says Kari Haugen, senior manager for energy solutions in Wallenius Wilhelmsen.

With the shipping industry accounting for close to three percent of global CO2 emissions, using biofuels to power existing fleets could be one solution to reducing emissions in the short-term while shipping companies continue to explore new vessel technology.

Sustainable biofuels hold the potential for the shipping industry to achieve a step reduction in lifecycle CO2 emissions for its existing fleet. While sustainable biofuels cannot achieve a zero-emission outcome, they represent a step in the right direction.

Head of sustainability, Wallenius Wilhelmsen
Testing the transition to alternative fuels
The biofuel blend used in the trial is 0.50% sulphur residual fuel (VLSFO) and contains 45% FAME (Fatty Acid Methyl Ester). The added advantage is that it's a "drop-in fuel" meaning it can be used without the need for any vessel modifications, making it a viable choice for vessels currently in operation.

A total of 2000 mt of the biofuels blend was bunkered in our vessel MV Figaro in Amsterdam in December. In preparation for the trial, certain protocol was carried out, including risk assessment and planning, ship inspection and performance tests, fuel quality analysis, data collection and analysis, and onboard handling guidelines.

"We expect the trial to prove technical feasibility, with no adverse effect on engine performance, on-board storage, handling and treatment systems. The trial will also validate the stability of the fuel over a longer period of time," says Haugen. "Equally important is administrative feasibility. As marine biofuel specifications may not meet all the required specifications that vessel engines are originally designed for, flag state, class, engine manufacturer and insurance stakeholders need to be involved in approving the use of these products," she explains.
Supporting customers with sustainable logistics
For Mercedes-Benz AG, who transported over 1,000 passenger cars from Zeebrugge and Bremerhaven to South Africa and Australia onboard MV Figaro during the trial, biofuels offer a welcome addition to a more sustainable supply chain.

On its way to CO2-neutral mobility with its "Ambition2039", Mercedes-Benz looks at the entire value chain from development and production to the electrification of products, the supplier network and renewable energies for the use phase of electric vehicles. In addition to CO2-neutral production worldwide, sustainable logistics plays an equally important role.


Saving emissions in logistics is an important lever to achieve our ambitious sustainability goals. This pilot project and the CO2-reduced transportation of our vehicles to Australia is a further step to a sustainable and CO2-neutral logistics solution.

Head of supply chain management, Mercedes-Benz AG
"While there is still a way to go before biofuels will be applied at a larger scale in deep-sea shipping, we are committed to working jointly with industry and stakeholders to make this happen," says Strevens. "We will leave no stone unturned on our journey to zero emissions."
Sustainable Biofuel fast facts
A source of renewable energy, derived from organic matter or waste feedstock.
Produced from sustainable non-crop feedstock and various types of waste products not competing with food or water supplies such as algae, agriculture or forest wastes, animal waste, used cooking oil (UCOME).
The biofuel blend used in the trial is a 0.50% sulphur residual fuel (VLSFO) with 45% waste -based Fatty Acid Methyl Ester (FAME) and has the potential to reduce CO2 emission by a third compared with conventional marine fuel oil.
Most marine biofuels are drop-in fuels meaning they can be used without the need for any engine modifications.