A market outlook for the global economy and automotive sector
A new decade has dawned, but what does it have in store for the global economy and the automotive sector? Erik Solum, senior analyst at Wallenius Wilhelmsen's market intelligence unit, takes a look at the road ahead.
A new decade brings with it a renewed sense of optimism, but are things also looking up for the global economy and automotive market? And what impact will tough new carbon emission regulations have on vehicle sales?
What are the prospects for global growth?
Global lead indicators were at record high levels during 2019, however growth weakened during the year. Meanwhile several industrial sectors experienced record sales. Trade wars and a slowdown in growth in China were the main culprits for weakness in the global economy. But as exporters adjusted to new tariff regimes, the impact of the trade war on growth turned out to be smaller than expected, with the Purchasing Managers' Index (PMI) stabilising last year. Further escalation of trade conflicts between the US and China is not likely despite political events like the US election.
One of the main drivers in the global economy is consumer spending, which is benefiting from decent income growth – along with low oil prices, inflation and interest rates.
Commodity prices in decline
The push-pull forces we have experienced in commodity markets remained in force during 2019, with prices rising in the first half of the year and falling in the second half. Commodity markets continue to appear soft, with the Materials Price Index (MPI) predicted to decline between 3.0% and 3.5% year-on-year in 2020. Some commodities may recover in the second half of 2020.
Oil prices have been buffeted by weak global growth, OPEC production cuts, production increases in non-OPEC countries, an attack on Saudi production facilities and trade wars.
We expect the average price of Brent crude will drop from $64 per barrel in 2019 to $57 in 2020, as growing non-OPEC production and sluggish demand growth keep the oil market in surplus.
Preparing for the unexpected
Despite these uncertainties, recession is not a likely scenario in 2020. Fears over recession were widespread in early 2019 when manufacturing growth in many parts of the world declined and the US-China trade war escalated. By the summer, major analysts predicted that there was a 30% risk of a US recession.
The global economy seems to have done enough to avert this. Manufacturing activity appears to have reached a trough. With central banks around the world providing more liquidity, financial conditions have eased considerably. Both stock prices and bond yields have risen in key markets. All of this has lowered the risk of a US recession to around 20%.
Nevertheless, the challenges facing the global economy remain daunting. In the near term, the biggest danger is either an escalation of the US-China trade war or its spread to other parts of the world, notably Europe. Another potential stumbling block is the hesitation on the part of many governments (especially in the Eurozone) to provide more fiscal stimulus. This could become a serious problem if growth falters.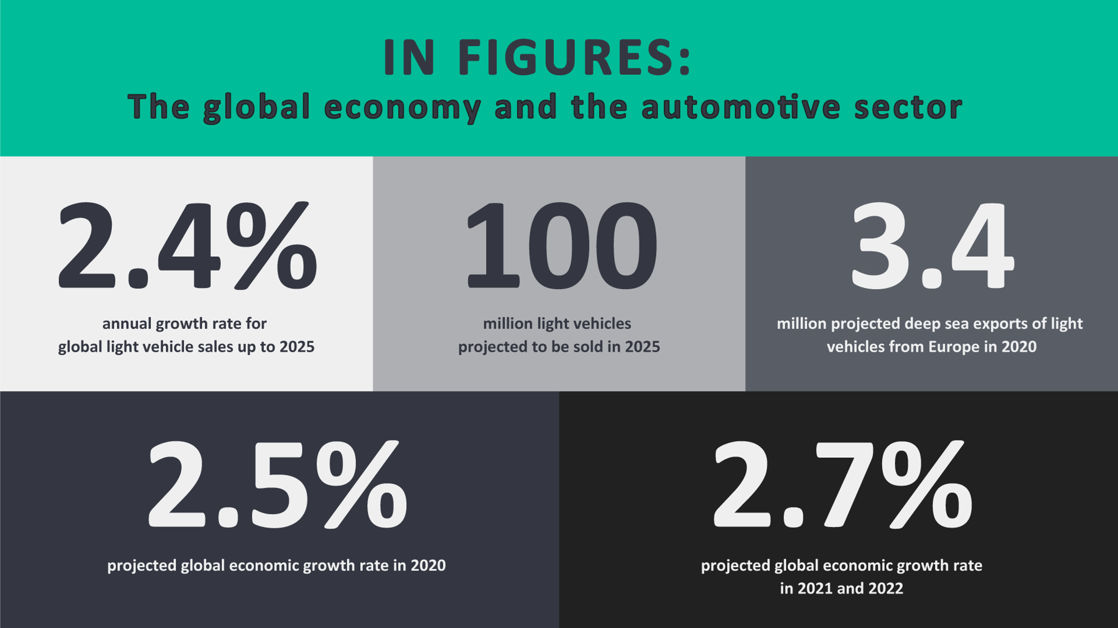 What is the outlook for automotive sales and exports?
Sales of light vehicles (less than 3.5 tonnes) dropped to 89.5 million units in 2019, down from 93.7 million units the year before. We expect the market this year to be fairly flat, before gaining traction again in 2021. In fact, we predict that light vehicle sales will reach more than 100 million units in 2025. Deep sea volumes were down from 15.1 million in 2018 to 14.8 million in 2019, a decline of 1.6%. For 2020, we expect slight growth, before reaching trend level growth in 2021.
We envisage light vehicle sales to be fuelled by increased population and the growing global middle class. Some factors could dampen growth, including new emissions standards like the Worldwide Light Vehicle Test Procedure in Europe and tighter emissions standards in China, which might cause sales to contract. But the global popularity of crossovers and SUVs means that while sales volumes might decline, profits for the automotive sector could potentially be higher.
Sources: Reuters, WSJ, The Economist, IHS Markit, LMC Auto, EV Volumes.