4 outbound logistics challenges facing agriculture, construction and mining equipment OEMs
For manufacturers serving fast moving industries such as construction, agriculture and mining, ensuring products are delivered on time to end customers is crucial to meeting demand and gaining valuable market share. Partnering with a logistics provider with multiple capabilities can help mitigate outbound supply chain challenges and improve speed to market.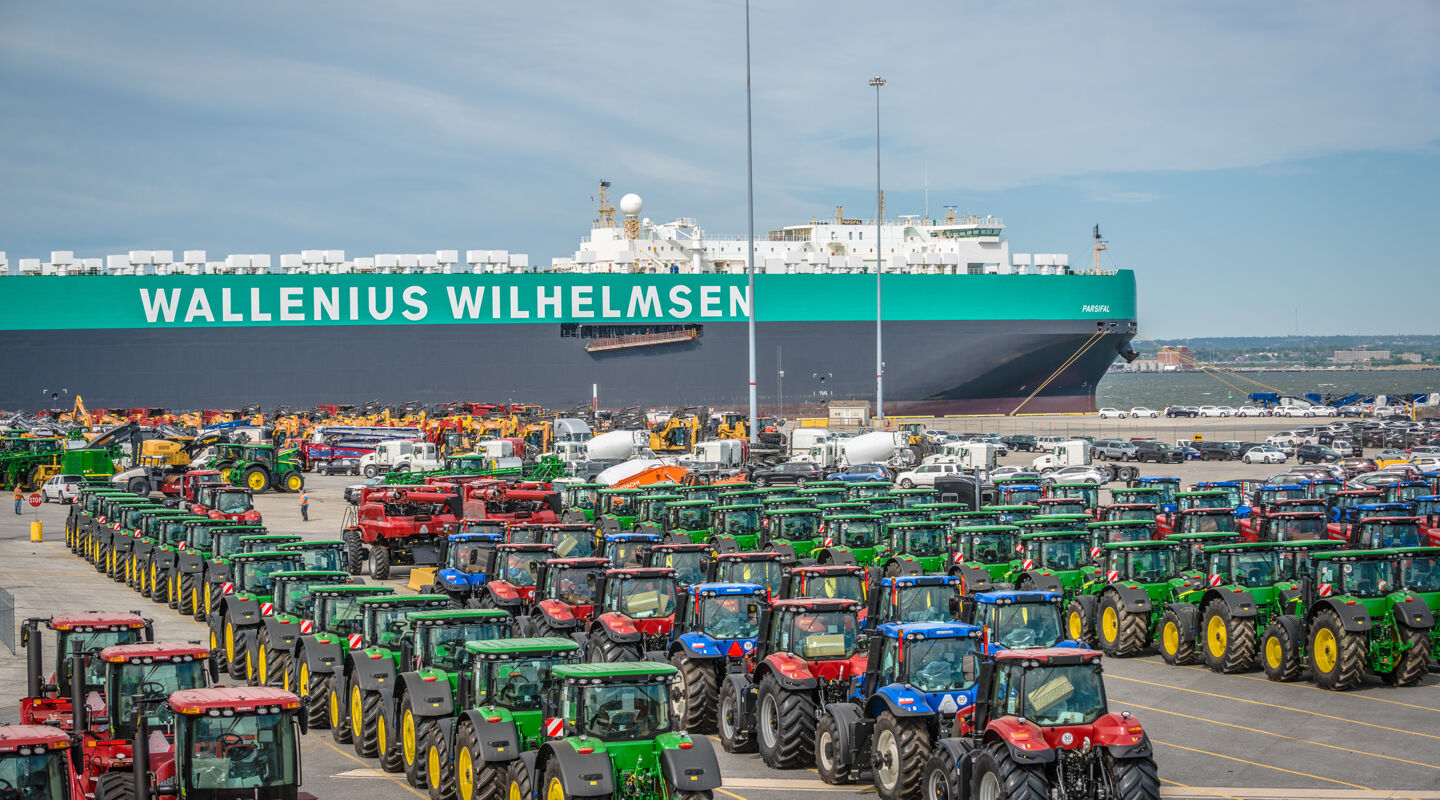 From unit dimensions, seasonality of movement and distribution strategy to dealer relationships and sourcing origins, the outbound supply chain for the machinery segment is complex and without the right support OEMs can face a number of challenges.

"Manufacturers are skilled at designing, engineering and building products for their end customer, but they require support with logistics and transportation management, and the expertise of a partner that can evaluate their supply chain to help identify weaknesses and strengths," says Kraig Jondle, global account manager at Wallenius Wilhelmsen.

Here are some of the most common pain points for OEMs and the reasons why strategic partnerships can help streamline communication, reduce costs and cut lead times.
1. Reliable shipping services to meet seasonal demand
Meeting customer demand not only during targeted seasons, but also for routine dealer replenishment is key for machinery manufacturers to capture market share.

With reduced capacity in container shipping coupled with a shortage of containers and longer waiting times due to port congestion, OEMs are experiencing costly delays in their outbound supply chain, which impacts delivery to end customers.

One of the biggest challenges is low supply of parts to factories, which affects assembly lines, causing disruptions to production.

"With Covid-19 impacting many suppliers in terms of production capacity, coupled with reduced capacity in container shipping, the lack of parts is becoming more of an issue for OEMs and starting to impact production at many factories globally, in turn affecting outbound logistics volumes," says Nick Bryan, vice president sales for France, Benelux and Southern Europe, Wallenius Wilhelmsen.

While this affects construction and mining, agriculture, being the most seasonal of the three sectors, is under arguably even more pressure to keep the supply chain moving to meet seasonal demand.

"For agricultural OEMs, the majority of products are seasonal and if they don't deliver these units to market in time for the harvesting season their customers will find a new supplier," says Bryan.

The impact on parts supply is only one challenge – the delivery of smaller units is also impacted by the capacity shortage in the container industry.

RoRo offers a stable solution for shipping smaller, lighter fully built and semi-knocked down machines as well as larger components, helping to support OEMs in meeting their customers' delivery schedules.

"The frequency of our RoRo service coupled with our fast transit times ensures products are delivered to market timeously," adds Bryan.

Schedule reliability is only one advantage of using a RoRo service. Customised handling solutions also ensure products are safely loaded and discharged from the vessel, arriving in dealer-ready condition to the end customer.
2. Outsourcing processing to support greater flexibility
Moving finished machines to end customers can often be delayed due to the need for customisation work, which is why outsourcing to a processing facility that has the infrastructure and expertise to carry out work traditionally done on the factory floor can save OEMs time and money.

More than just a storage and distribution facility, our network of on-port and off-port processing centres (EPCs) have the capabilities to perform complex customisation and modifications to a range of machinery. "Our processing activities are fast becoming an extension of our customers' in-house expertise," says Bryan.

On-port EPCs allow for immediate storage and simple processing services as well as access to Free-Trade Zone storage if needed. These products can then leave the facility after the service or storage is complete and be delivered directly to the customer, helping to reduce lead times.

For more complex processing services and larger storage capacity requirements, off-port EPCs provide a bigger footprint to store both stock and customised units. This offers a cost-effective solution for more extensive processing, while simultaneously giving an OEM the flexibility to store inventory for both stock and dealer destined units.

By utilising our network of on-port and off-port EPCs, OEMs can not only speed up time to market, but reduce inventory costs by scaling processing up or down according to demand.

"The ability to offer both on-port and off-port EPC facilities provides OEMs with flexibility to adapt to their particular needs, products and timeframes," says Rich Heintzelman, vice president sales, high and heavy, US.
The ability to offer both on-port and off-port EPC facilities provides OEMs with flexibility to adapt to their particular needs, products and timeframes.

Vice president sales, high and heavy, US
3. Greater real-time visibility across the outbound supply chain
Poor visibility contributes to a number of supply chain challenges, from not being able to arrange timely and cost-effective solutions on the transport side to production planning on the labour side, which can result in delivery dates to end customers being missed.

With more competition than ever in this space, it has become increasingly critical that OEMs are able to not only capture all of the associated costs when moving a product from factory to dealer, but that they have the visibility of the units, including predictive analytics of cargo movement, through the supply chain.

One way to support better visibility is by partnering with a logistics provider that can deliver integrated support across the supply chain with access to technology and data.

"By introducing more integrated systems linking all of our services, both OEMs and their end customers will be afforded greater visibility throughout the supply chain," he says. "From units arriving on our vessels to moving through our terminals, into our EPCs and eventually to their final destination on our trucks, they will have a real-time view of the entire journey."
4. Connected services to mitigate shortage of trucking capacity
In the US, one of the largest markets for the machinery segment, access to land-based trucking capacity is one of the biggest challenges facing OEMs, causing bottlenecks in the supply chain.

A shortage of truck drivers, the explosion of e-commerce and regulatory restrictions have all contributed to overall reduction in capacity.

Our inland distribution network in the US, operated by our subsidiary Keen Transport, helps to unite our ocean transportation and processing services, offering value to customers across the supply chain.

"Wallenius Wilhelmsen and our portfolio companies have an extensive network, which, if used strategically and tactically, can help save time and improve efficiencies for OEMs and their dealers," says Heintzelman.